Samsung T*Omnia: WVGA, DMB-TV & everything i900, but it's not for us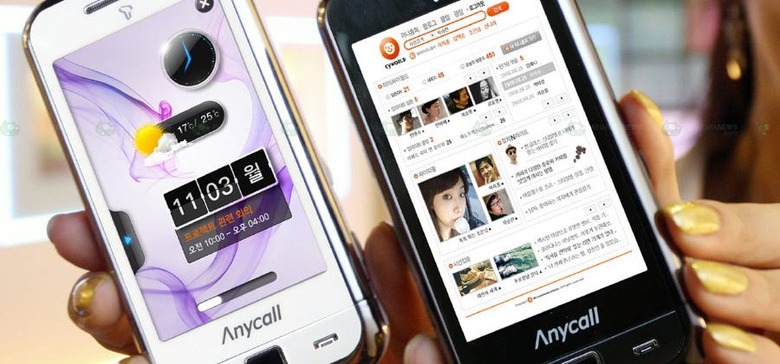 It wasn't enough for Samsung to upset US buyers by not making a compatible 3G HSDPA version of the Omnia i900 smartphone for them; now they're looking to drive Europe to horrible tears by updating it to this, the Samsung T*Omnia.  Out goes the old 3.22-inch 240 x 400 touchscreen, to be replaced with a glorious 3.3-inch 480 x 800 panel.  Then, to make sure every carrier other than those in Korea ignore it, Samsung dropped in a DMB-TV tuner.
Honestly, the gall of some people!  Otherwise the specs are as appealing as ever: quadband GSM with 7.2Mbps HSDPA, a 5-megapixel camera with auto-focus, flash and image stabilization, A-GPS, Bluetooth 2.0 +EDR and WiFi.   We've a feeling DivX and XviD movies will look particularly luscious on that WVGA display.
OS is Windows Mobile 6.1 Pro, and two versions of the T*Omnia will be available: the SCH-M490 with 4GB of integrated storage and the SCH-M495 with 16GB of integrated storage.  Both also have microSD card slots.  The Samsung T*Omnia will go on sale in Korea, exclusive to SK Telecom, from mid-November. 
Press Release:
November 3, 2008, Seoul Korea – Samsung Electronics Co., Ltd., a leading producer of mobile phones, today announced the Korean market launch of "T*OMNIA", the Korean version of "Samsung OMNIA".

Samsung OMNIA, renamed as "T*OMNIA", will be available from mid-November under exclusive deal with SK telecom, the largest mobile operator in Korea.

Compared the original Samsung OMNIA, "T*OMNIA" equipped upgraded 3.3" WVGA touch screen (480x800) and added Satellite DMB function, an essential feature for Korean users who would like to enjoy Mobile TV and internet with their mobile phones any time, anywhere.

One of the most outstanding features of new "T*OMNIA" is an innovative user interface. Based on the most up to date Windows Mobile 6.1 Professional operating system, "T*OMNIA" has an user-friendly "Today" idle screen as well, which is automatically converted as weather and time changes. Its advanced widget features such as news, weather or stock information are updated in real time.

Korean customers can experience all of the appraised original Samsung OMNIA's top-of-the-line features available in today's mobile phones as well. For ease of navigation an optical mouse similar to those on laptop computers offers improved usability and one-handed control. "T*OMNIA" also comes with a five-megapixel CMOS camera included auto-focus (AF) and image stabilizer, offering Wi-Fi connection and GPS features. DivX supported touch player and Samsung's patented sound quality technology "DNSe"(Digital Natural Sound engine) help the users enjoy various dynamic multimedia experience.

The handset's generous internal memory capacity options (4GB in SCH-M490 / 16GB in SCH-M495) and extendable slot for additions ensures ample storage space for digital assets.

Geesung Choi, President of Samsung Telecommunication Business, said: "I am very excited to introduce "T*OMNIA", an excellent all-in-one smart phone that truly delivers the best possible features for today's busy, connected consumer. We are confidently expecting that this innovate handset will make the most successful boom-up in emerging smartphone market in Korea."

"T*OMNIA" offers an enhanced multimedia experience with HSDPA networks with speeds as fast as 7.2Mbps. With Bluetooth® 2.0 and USB 2.0, users also will be connected to a range of peripherals including wireless headsets and mobile printing.