Samsung teases 2018 QLED TV lineup reveal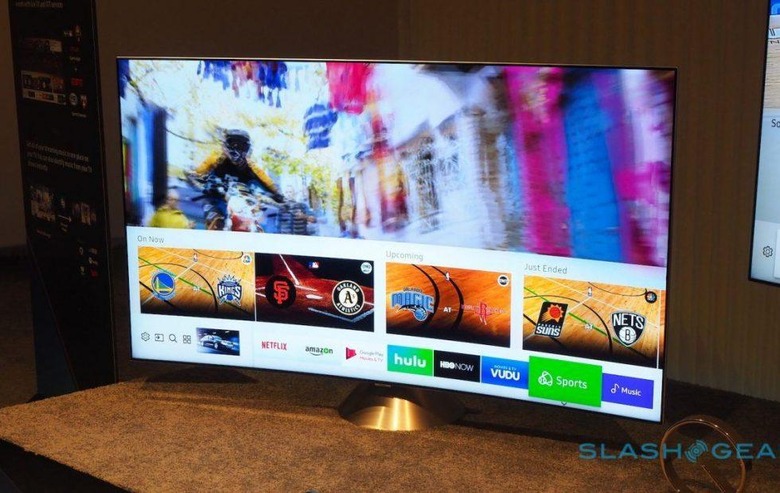 Samsung was one of the first TV manufacturers to launch a line of QLED televisions, starting with their debut in early 2017 (seen above). But the Korean electronics giant notably withheld revealing the new 2018 lineup from this year's CES event in January, instead waiting until March. The company has now announced that it will be holding its own "first look" event in New York on Wednesday, March 7th, where it will unveil its newest QLED, or quantum dot LED, TVs.
Interestingly, the event is being held at the American Stock Exchange in New York City, which is not your typical venue for a consumer product launch. "Throughout the continuous evolution of its technology, Samsung always designs its products around the lifestyles of its customers. The new QLED TVs will do this in brand new ways for 2018," Samsung said in a statement.
It's hard to know exactly what new features are in store for the new lineup of QLED TVs, however Samsung noted back in January that it would be bringing its AI assistant Bixby to its premium TV models in 2018. It's a safe bet Bixby will allow users to browse and interact with TV content using voice commands, as well as power any number of other features.
CES 2018 saw Samsung reveal an impressive 146-inch micro LED TV, while this year has also seen QLED monitors begin rolling out. The company has suggested that it believes QLED is a better fit over its existing OLED technology for larger displays such as TVs, and instead reserves the latter for its smartphones, tablets, and other mobile devices.
SOURCE Samsung