Samsung TA950 and TA750 asymmetrical 3D TV eyes-on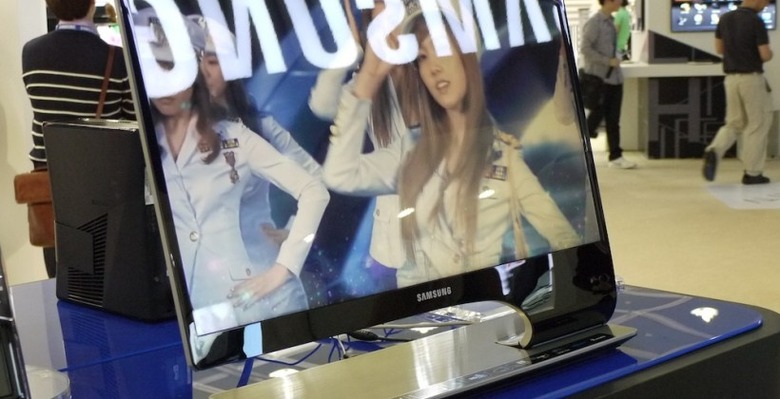 Samsung's gorgeous asymmetrical SyncMaster TA950 – and its slightly less striking TA750 sibling – is no stranger to these pages, but with retail availability now locked in we caught up with the 3D monitor/TV hybrids in person. They're no less attractive despite the months between now and their January debut, the TA950 floating neatly on a curving stand while the TA750 juts forward on its more traditional circular foot.
Both support 1920 x 1080 Full HD with active 3D and 2D-to-3D upscaling. Picture quality of the 27-inch sets was impressive, with Samsung's Ultra Clear Panel technology doing a decent job with 2D and 3D content without blurring. We're still not entirely convinced by 3D – whether using active or passive glasses – but having both a TV tuner and standalone monitor support in the same screen makes both SyncMaster sets a worthy addition to your desktop.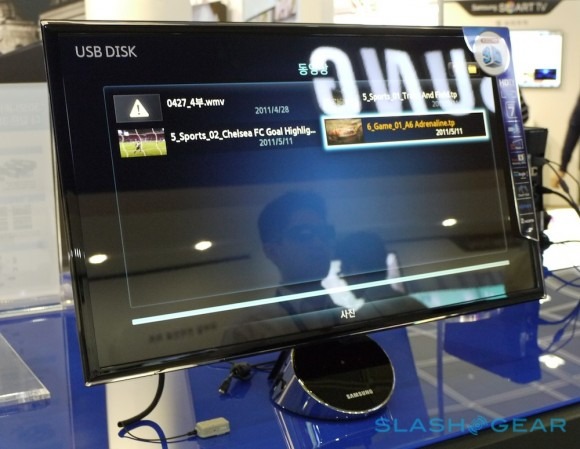 Each has a selection of two USB and two HDMI ports, and it proved straightforward to pull up photo and video content from a USB drive we thumbed into place. There's picture-in-picture support, too, so you can both watch broadcast TV and what's coming out of your notebook. No integrated WiFi, but there's wired ethernet and some of the Smart Hub smart TV functionality we saw on the D8000, like Search All (which pulls in content shared over your home network and online), Your Video (which makes recommendations based on your viewing history) and Samsung Apps.
The TA750 and TA950 will drop in the US this month, priced from $599.99.