Samsung T27A950 Monitor / TV Hands-on [Video]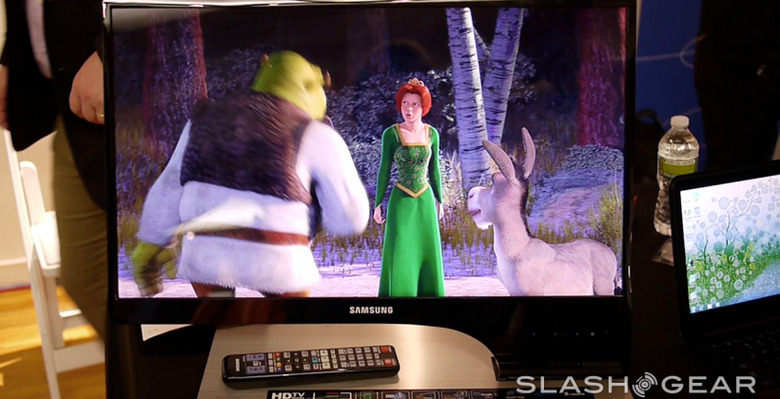 Also simply known as the TA950, this Samsung full HD and 3D capable monitor can and will act as your do-it-all monitor and small-room TV, for real. We got the chance to take a look at this lovely piece of equipment at Pepcom this past week during their 2011 Holiday Spectacular – a lovely event with delicious amounts of similar opportunities from all ends of the tech spectrum. What we've got here is a 27-inch BLU LED ultra clear panel with a resolution of 1,920 x 1,080 pixels – let me stop you right there and let you know that this is big, it's bright, it's fantastic, and you're going to get your eyes ripped out of their sockets by the clarity. Let's just put that out there and see what happens.
This device also works with a DNIe + 3D HyperReal Engine and has a panel frame rate of 120Hz, a brightness of 300cd/m2, and one heck of a lot of viewing angles. It sits on a unique right-side hinge as you can see, providing you with an industrial design unlike basically anything you've owned before. This is a unique monitor, suffice to say, and Samsung lets us know that it's a flagship product of theirs, so you can bet you'll be getting all the support you need out of it should the need arise. You can use it in 2D or 3D modes, you've got jacks galore in the back including connections to your computer monitor, TV box, and anything that's got an HDMI cable, and you'll get a few sets of 3D glasses with it, right out of the box, with option to purchase a whole lot more for cheap!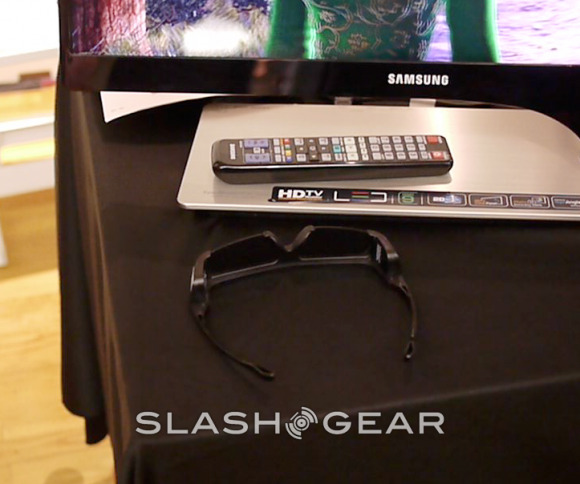 Note also that this device can support internet connectedness through wi-fi and works with the Samsung suite of TV apps so that you'll be rolling with the winning team through the future. YouTube 3D? I think so! Also listen in for tips on other streaming video groups you'll be able to work with in your very near future. It may not quite be the behemoth that Samsung's 55-inch UN55D8000 is (this is the gigantic television you'll see in basically every Samsung exhibit from here through 2012, but check out our review of that ultra monster to get a fully immersive idea of what your TA950 is capable as far as Samsung Smart TV goes.
[vms 6f236fabf61d614a3281]
This look like the monitor / TV for you? Let us know how your purchase experience goes – it's available right now wherever fine televisions and monitors are sold! Grab it! Also note that we've got a whole heck of a lot more hands-on videos up from the event we're at here, just hit the [Pepcom Holiday Spectacular 2011 portal] and you'll be well on your way!