Samsung Swaps Bulb For LEDs In Latest Rear-Projection HDTV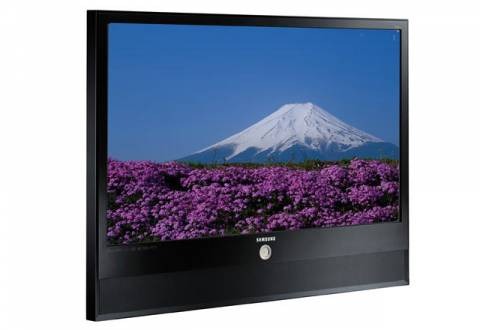 I used to be friends with someone whose idea of entertaining guests was to close the curtains, put a wonky old VHS copy of a copy of Karate Kid on the TV and make us sit quietly while he guffawed at all the sentimental bits.  "But why are you telling us this, Chris?" I hear you mutter into your pork pie; it's easy, lovers, it's to introduce the Samsung HL-S5679W, apparently the "World's First" LED DLP HDTV that has a brighter, more position-stable picture than any rear-projection TV before.
With the comedy-named "PhlatLight" LED high-intensity light source, Samsung claim improved longevity, increased colour gamut reproduction, faster turn-on time of just seven seconds and quieter operation than other light engine-based models.  That's a pretty darn impressive list, in part thanks to PhlatLight being a single-chip, colour wheel-free array of high-power red, green and blue LEDs.
With 1,920 x 1080p resolution, two 1080p HDMI inputs, Cable Card and integrated ATSC and NTSC tuners, the HL-S5679W is available now for $4,299.99.