Samsung ST500 And ST550 Dual-LCD Touchscreen Digicams Appear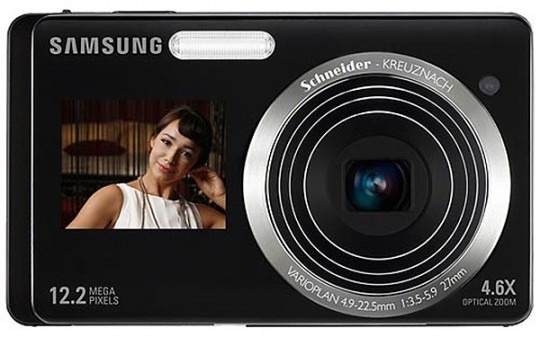 Samsung's latest digital cameras, the ST500 and ST550, have shown up for sale at Amazon UK, complete with dual LCD displays.  The pair – which each have 12.2-megapixel sensors, 4.6x optical zooms and 720p HD video recording modes – have one large touchscreen display on the rear, while a secondary 1.5-inch LCD panel next to the lens can be used to display a preview of the shot or settings status.
The two cameras differ by virtue of their rear LCD size, with the ST500 having a 3-inch touchscreen and the ST550 having a larger 3.5-inch touchscreen.  Both have image stabilization and haptic feedback, and support Samsung's "Tap and Take" system which was first teased earlier this month.
As for pricing, the Samsung ST500 is listed for £249 ($411) on Amazon UK and available in black with red, silver or blue highlights.  The Samsung ST550, meanwhile, is £299 ($493) in purple, gold or orange variants.
[Thanks Ron!]