Samsung SPH-P9200 ultra-UMPC details break cover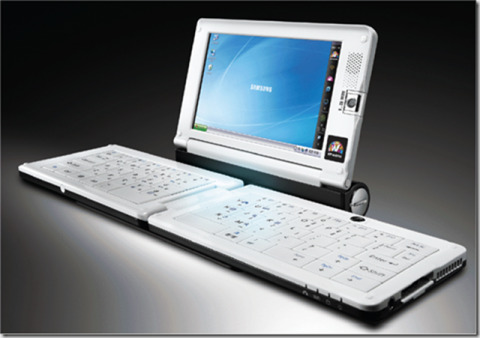 Samsung's SPH-P9000 UMPC grabbed hearts and attention at the end of last year bringing a new level of twisty, bendy, foldable loveliness to the ultraportable table.  Now their follow-up, the SPH-P9200, has broken cover – it might look pretty sparse on specs, but the low-voltage VIA processor should manage some decent battery life.  Chippy over at UMPC Portal has managed to dig up the user manual [pdf link] and of course there's a video (after the cut) of the device in action at GITEX 2007.
Ignore the processor and take a look at the networking options – HSDPA, WiFi and WiBro – and imagine yourself playing on your lovely UMPC wherever your heart leads you.  I'm really looking forward to getting my hands on one!
Via C7-M processor
512MB RAM
30GB hard drive
Windows XP Home edition.
Standard battery (20Whr, 2-2.5hours)
Extended battery (40whr, up to 5 hours)
Camera, 1.3mp
Wifi, Wibro and HSDPA
SIM card slot.
15 pin accessory port (unclear. Could be for headset, dongles)
Port replicator (2xUSB, power, LAN, VGA)
5" 800x480 screen (and higher res interpolated modes)
Deluxe Launcher with enhanced systems tray.
Includes Samsung MyPen software.
Icon lens and MyZoom software
Optical joystick (and mouse buttons)
[via Ultramobile Life, UMPC Portal and GottaBeMobile]