Samsung SMX-C14 & SMX-C10 Touch of Color camcorders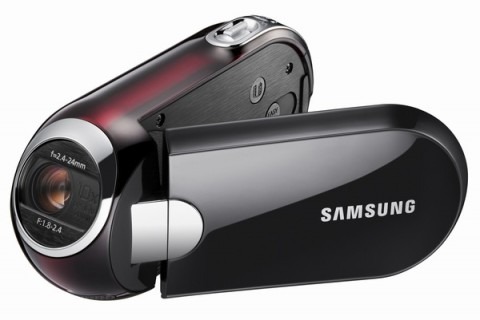 Touch of Color was always too slick to be restricted to Samsung's TV ranges, and the company obviously agrees: the new Samsung SMX-C14 and SMX-C10 camcorders get the glossy red accents across their slickly-curved casings.  Announced today, the pair each have Hyper Image Stabilization, 2.7-inch flip-out 230,000 pixel displays, and Samsung's Active Angle Lens which allows for a "more relaxed" shooting angle.
Both camcorders have an SD/SDHC card slot, and the SMX-C14 adds to that with an integrated 16GB of storage.  That's enough for over six hours of H.264 footage, more shooting in fact than you'll have battery for: Samsung estimate around 2 hours 40 minutes from the rechargeable power pack.
There's also a 10x optical zoom, "one touch upload" button for sending footage to YouTube, and time-lapse recording.  In fact the only thing we're not clear on is resolution, with Samsung neglecting to mention what sort of picture quality we can expect.  The Samsung SMX-C10 and SMX-C14 will hit the market in July 2009, price as yet unknown.
Update: Samsung have confirmed that the standard resolution of the two camcorders is 720 x 480/60i.  They also have a 640 x 480/30p "web resolution" mode.  Images are 800 x 600, with a 1600 x 1200 interpolation mode.
Press Release:
Samsung Focuses on Ergonomics with Two New Digital Camcorders

New SMX-C14 and SMX-C10 Offer Industry-Leading Style, Design and Ease-of-Use

RIDGEFIELD PARK, N.J.–Samsung Electronics America Inc., a market leader and award-winning innovator in consumer electronics, today announced the SMX-C14 and SMX-C10, two new ergonomically designed, compact digital camcorders offering industry-leading style and design. The new SMX-C14 and SMX-C10 also feature Samsung's stylish Touch of Color™ (ToC™) finish that was first introduced in the company's line of flat-panel HDTVs. With ToC design, a hint of color is naturally blended into the deep black body for an attractive crystalline appearance.

The SMX-C14 and SMX-C10 are ideal for the on-the-go consumer and offer an impressive 10x optical zoom paired with Hyper Image Stabilization to help reduce blurry footage. Both camcorders also feature a 230,000-dot, swiveling 2.7-inch wide LCD screen, which allows users to effortlessly frame their subjects and review their footage. Similar to the full-HD HMX-R10, the new SMX-C14 and SMX-C10 boast Samsung's Active Angle Lens. This unique design helps reduce fatigue by allowing consumers to grip the camcorder in a more relaxed manner, easing the overall stress on their wrist and elbow. Unlike traditional camcorders, the relaxed grip also removes the LCD screen from the user's line of sight, enabling them to always keep an eye on their subject while recording.

"The SMX-C14 and SMX-C10 are truly unique camcorders, starting with their eye-catching ToC design," said Reid Sullivan, senior vice president of Audio/Video and Digital Imaging Marketing at Samsung Electronics America. "In addition to being ultra-compact, ergonomic and stylish, these camcorders offer a host of advanced, yet easy-to-use capabilities that encourage consumers to integrate video recording into their everyday digital lifestyles."

The new SMX-C14 features 16GB of internal Samsung flash memory and is expandable via an SD/SDHC memory card slot. Thanks to H.264 compression, which drastically enhances recording times when used with standard definition video, users can record over six hours of footage directly to the SMX-C14's 16GB of built-in memory. The SMX-C10 does not feature internal memory and requires the use of SD/SDHC media. Both the SMX-C14 and SMX-C10 also offer substantial battery life, providing more than two hours and forty minutes of record time on a single charge.

The SMX-C14 and SMX-C10 also incorporate Samsung's play-edit-sharing program called intelli-studio. The built-in intelli-studio program allows consumers to connect the camcorder to any computer via USB and edit and play their video without having to install supporting software. intelli-studio also facilitates the process of uploading users' content to popular video-sharing Web sites. For added convenience, a one-touch "upload" button, available directly on the SMX-C14 and SMX-C10, provides a direct connection to YouTube™, further reducing the number of steps needed to upload footage. In addition, the camcorders also allow basic on-camera editing, including the ability to merge and split video files.

Samsung also enhances the video recording experience for end-users thanks to several unique features, including time-lapse recording, animated thumbnails and a versatile charging system. Time-lapse recording allows users to program the camcorder to record at a pre-set interval of one image every one, three, five, 10, 15 or 30 seconds. Time-lapse recording is especially useful for condensing extremely long events, such as rolling clouds on a sunny day, into a short, easy-to-view video.

Samsung's animated thumbnail feature simplifies the way users search for video clips on the SMX-C14 and SMX-C10. Each video clip saved on the camcorder is represented by a small thumbnail on the LCD screen. When scrolling through one's videos, each thumbnail will provide a short playback of the video file when highlighted by the user. The SMX-C14 and SMX-C10 also feature a versatile charging system. Users can either recharge the battery by connecting the camcorder to the supplied AC adapter or via USB while the camcorder is connected to a computer.

The SMX-C14 and SMX-C10 will be available in July 2009.