Samsung Smart Switch aims to be key to competitor defection

There's a software suite out there existing under the name Samsung Smart Switch that, if we didn't know any better, we'd think was a pitch from Microsoft for Windows Phone. It's not that smaller sect of the smartphone universe that collection is aimed at, however, it's Samsung's implementation of Android – and it's not a still-burgeoning operating system this campaign is aimed at, it's one of the most popular lines of smartphones in the history of smartphones.
What you've got here is Samsung selling the world on their smartphones with a set of (free) software that makes switching from any smartphone to a Galaxy device easy. As easy as Samsung is able to make it, that is.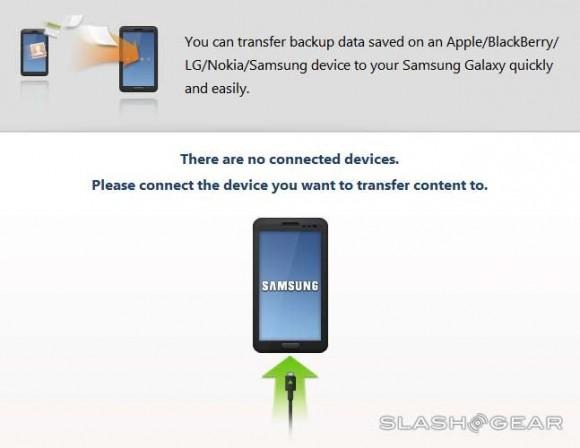 While at the moment this software suite works only to bring your previous smartphone experience over to the Samsung Galaxy S 4, and it only works in the USA, it's a sure-shot for a wider hit once it takes off. And take off it very well might with a launch that works with desktop software for both Windows and Mac from the outset.
*UPDATE: As of July 1st, Samsung Galaxy S III and Galaxy Note II are also supported – you can now switch TO them in addition to being able to swtich FROM them.
With the desktop-based transfer software you're using with Samsung Smart Switch, you've got a flow from one smartphone to the other with a series of intuitive steps. The process is essentially the same on both Mac and Windows machines, and you'll be switching from any of the following brands:
• Apple – iOS 4.2.1 or higher
• BlackBerry – BlackBerry OS 6.0 or higher
• LG – Android Gingerbread or higher
• Nokia – Series version 40 or higher; Symbian version 6.0 or higher
• Samsung – "The data that was backed up from Kies version 2.3.5 or higher"
So if you've got an HTC device, at the moment, you're out of luck. But again: this is only the launch. It would also appear that those wishing to transfer from an older Samsung device are assumed to be familiar with Kies before they hit this process where iOS is simply the most basic of basics.
*NOTE: There's also a "Smart Switch Mobile" app that makes switching from Galaxy to Galaxy devices extremely simple.
Meanwhile you'll find Nokia devices to be only those from non-Windows Phone families and LG is ready for Android, BlackBerry for 6.0 and up.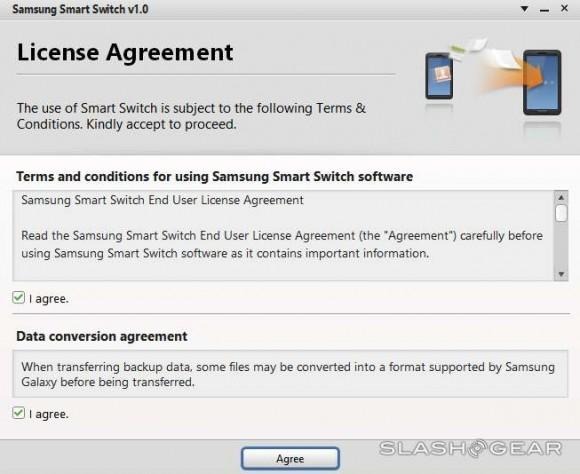 The PC and Mac side of this transfer brings on the trade-over of the following bits and pieces:
• Contacts
• Messages
• Photos
• DRM-free Music
• Alarms
• Wallpapers
• Calendars
• Memos
• Videos (all those captured by your device's camera, that is)
• Podcasts
• Call logs
• Web bookmarks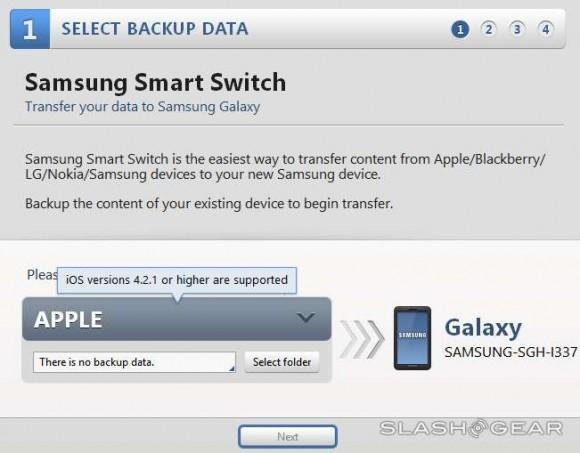 The most interesting piece of this equation actually exists in the Android app "Samsung Smart Switch Migration." This app is different from the Smart Switch Mobile app above, here acting as the final step between the PC and your new Samsung device. With this final step, the user works with "Smart App Matching and Reccomendation."
This Smart App Matching works with iOS devices at launch, and also – importantly – works with the Google Play app store rather than Samsung's own app portal. This makes a lot of sense given the more vast collection of apps in the Google Play app store, but it wouldn't be surprising to eventually – someday – see this switch over to Samsung's own "Samsung Apps" collection.
Have a peek and let us know how you're finding the process. Is it as easy as you'd hope it could be? Or is it a bit too taxing to be worth the effort?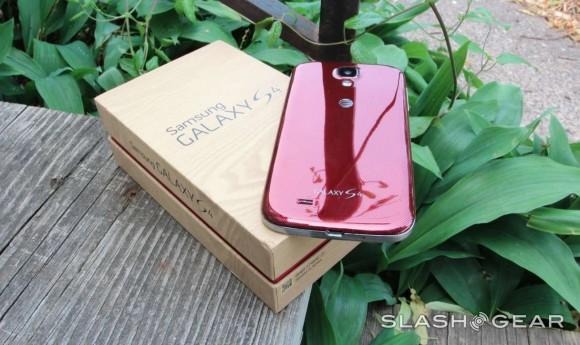 BONUS: A bit of an oddity here – when you make the switch you'll find the wallpaper you were using on your old phone now placed as default on your new phone. Could be cool, could look rather out of place. All up to your perspective.