Samsung Smart LED and Plasma TVs get voice, gesture and face control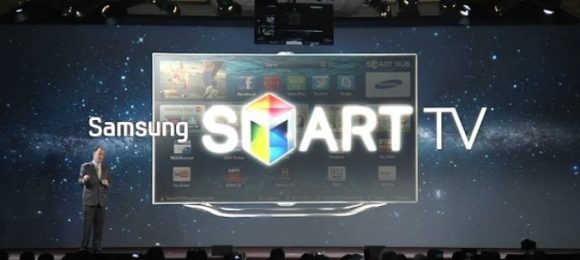 Samsung has unveiled its range of new smart TVs, adding voice, gesture and face recognition for a Kinect-style control system where traditional broadcast, VoD streaming and apps can be navigated without a remote. The face-recognition system can also tailor content offered to the viewer, so that children only say age-appropriate content. Each of the 2012 smart TVs now support software and hardware upgrades, too, for future-proofing.
An expansion bay on the back of the 2012 TVs can be fitted with an upgrade card, to add new features as Samsung develops them. The company says it will begin offering upgrade kits from 2013.
The integrated camera and microphone means you can turn the TV on or off, activate apps or search in the browser using your voice – with noise cancellation to boost accuracy – with hand-waves used to navigate around the page. A dual-core processor keeps things moving swiftly, and there's a tabbed web browser, over 1,400 apps to choose from, and AllShare Play to stream content to and from PCs, smartphones and tablets.
The Samsung ES8000 Smart LED TV and ES7500 Smart LED TV series offer both 2D and 3D, with an 0.2 inch ultra-slim bezel on the premium models and a 0.5 inch bezel on the regular line-up. There's also a slim wall mount option.
As for the E80000 Smart Plasma TV, that has a 1.5-inch profile and Samsung's Plasma +1 ultra-slim bezel design, as well as a Real Black Pro Panel that's supposedly 10-percent blacker than previous plasma displays.
No word on pricing at this stage.