Samsung may be saving its big TV news for CES 2014, but it can't help but squeak out a little about its new Smart Control, a peanut-shaped remote that wants you to shake it. Launching alongside the 2014 range of Samsung TVs, the new remote control wraps a circular touchpad, minimal buttons, and a microphone for voice control into a curvaceous shell, as well as dedicated buttons for browsing through smart features.
In addition to arrow keys for regular navigation, there's touchpad gestures for flipping through menus, and dedicated buttons for accessing things like the on-screen keyboard. Meanwhile, features like Multi-Link Screen – which shows several different sources on-screen at once – and "Soccer Mode" – which apparently "optimizes" the display for watching soccer – get their own dedicated keys.
As for the Voice Interaction, that promises natural language control of web and video content, rather than having to remember a list of special phrases. The Smart Control acts as a remote microphone terminal.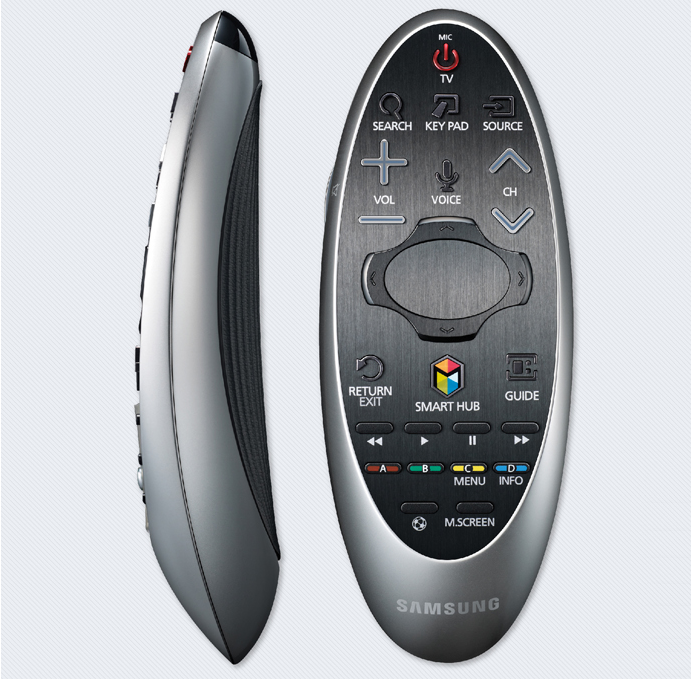 Meanwhile, if 26 buttons and a touchpad aren't enough, the remote can be moved around in mid-air for motion-navigation. Samsung says it makes browsing through a program guide far more straightforward.
It's not the first time we've seen Samsung push the envelope with its remotes. The controller for the 2013 range, for instance, also had a built-in microphone, though the new Smart Control is smaller and more ergonomic, Samsung claims, while the touchpad is 80-percent reduced and supposedly better suited to the thumb as a result.
We'll have to wait until next week to find out exactly what new TV features the Smart Control will be in charge of.