Samsung SF Series laptops & NF Series netbooks revealed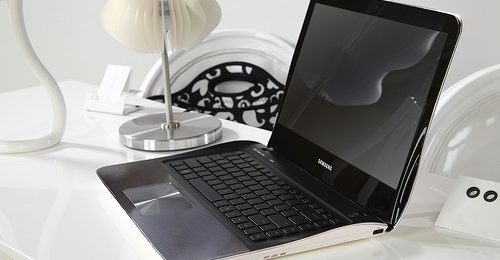 Samsung has outed a pair of new notebooks, the wavy SF Series and NF Series, each using the Korean company's new, unusual design language.  The Samsung SF Series comes with a choice of Intel Core i3 or Core i5 processors, with three screen options – the 13.3" SF310, 14" SF410 and 15.6" SF 510 – and battery life of up to 7.5hrs with the standard 61Wh battery.
The SF Series also get sleep-and-charge USB ports, a chiclet keyboard and an Express Charging Mode, capable of fully charging a battery in 2-3 hours.  There's a Fast Start mode, too, for quickly getting online.
Meanwhile the Samsung NF310, NF210 and NF110 all use Intel's dual-core N550 processor and Windows 7.  The NF310 gets a 1366 x 768 16:9 widescreen for HD videos, while the NF210 prioritises battery life with a 6-cell 8850mAh battery good for up to 14hrs runtime.  Finally, the NF110 is the budget option.
No word on pricing or availability, but we're guessing they'll all be on sale soon.
Press Release:
Samsung Sets a New Standard in Mobile Computer Design with the launch of new SF Series NotePCs and NF Series Netbooks

With a distinctive design and powerful features, the SF and NF series targets youth-minded and style-conscious consumers.

Sept. 1st, 2010, Seoul, Korea – Samsung Electronics Co., Ltd, a global leader in digital media and digital convergence technologies, today announced the launch of the SF series of ultra-portable notePCs and NF series netbooks. Without compromising on powerful performance and enhanced features, the Samsung SF Series notePCs and NF Series netbooks set a new standard for design in mobile computing.

Coupling a unique, streamlined design with optimal features for mobile convenience, the new lineup of SF series notePCs and NF series netbooks have been designed to match the dynamic and ever-changing lives of mobile users. Smooth and refined body design attracts the most sophisticated of today's computer users.

Seongwoo Nam, Executive Vice President and Head of IT Solutions Business at Samsung Electronics, said, "Inspired and elegantly crafted, this new lineup is truly representative of our efforts to come up with a new style in mobile computers." He added, "I believe that Samsung's new mobile computer designs are fresh and will drive design trends across the computer industry and satisfy style-conscious users."

Samsung SF Series – Samsung SF310, SF410, SF510

Samsung SF series notebooks have a distinctive design that offers style-conscious users the ultimate in mobility. The Samsung SF series will be available globally from October 2010.

The SF series will draw admiring glances from everyone around you with its tactile, glossy ivory exterior, stylish mat-black interior and comfortable island keyboard. It is available in three screen sizes (13.3" SF310, 14" SF410 and 15.6" SF 510) and shows refined craftsmanship with a durable case that has been constructed to be both ultra-light and scratch resistant.

Powered by Intel Core i3 / i5 dual-core processors, the SF series delivers performance as well as power efficiency, keeping users connected on the road. Battery life is essential for working on-the-go, so Samsung has included a premium Lithium Polymer Battery that provides up to 7.5 hours of battery life (61Wh battery). For additional convenience, the SF series also features Samsung's Express Charging Mode, reducing charging times and delivering a full battery in just 2~3 hours.

Samsung's Fast Start technology enables users to open the note PC and be ready to go in seconds. The Fast Start feature eliminates the waiting around for a laptop to start. The SF series' one-touch wireless control button allows you to connect immediately without any complicated steps. The combination of Samsung's Fast Start technology with its one-touch wireless capability means that you are up and online quickly and efficiently.

As well as enabling you to get started as soon as possible, the SF series helps you to stay connected using all of your devices. If you are caught short and find your smart phone, camera or other electrical devices low on power when traveling, Samsung's convenient Sleep & Charge USB lets you plug in your external devices via the USB connection, to charge without turning on your notebook.

Samsung NF Series – Samsung NF310, NF210, NF110

Samsung NF series netbook is a powerhouse of practical technology to help you stay connected without compromising on a stylish design. Sharing its unique design concept with the SF series, the NF netbooks deliver enhanced mobility and eye-catching design. NF series netbooks will be available in Europe in October and then expanded globally.

Equipped with enhanced mobility and innovative design, the Samsung NF310 netbook is just what you need to express yourself. A crystal clear HD LED display and unique surround sound system, together with the new Intel® Atom™ N550 (Dual Core) processor*, DDR3 memory and Windows 7, take netbook computing into a whole new dimension of multimedia performance.

NF 310 is also design to enjoy HD movies and images that are clear and picture perfect even in bright light with a high resolution (1366 x 768) widescreen and a proper 16:9 aspect ratio.

NF210 makes anytime, anywhere mobile computing convenient by uniting an extensive battery life of up to 14 hours (6 cell 8850mAh battery) with its ultraportable and stylish design.

NF110 gives trendsetting consumers all they want in a netbook at an affordable price. With extensive quality assurance testing and a majority of its components manufactured by Samsung, it affordably delivers exceptional reliability and long-term value.

Sharing content from PC-to-PC over a network can be complex and require a lot of IT knowledge, however, with Samsung's Easy File Share it's very simple and intuitive to make a direct PC-to-PC connection over an ad-hoc Wi-Fi connection.

The new notebooks also come equipped with Samsung AllShare™ allowing users to share and play videos, photos, and music across a full range of Digital Living Network Alliance (DLNA) certified Samsung devices, including cameras and handsets.