Samsung Series 7 AIO PCs sport 10-point touch Windows 8

Two brand new all-in-one PCs have been revealed by Samsung for the masses of users looking to get in on Windows 8 with all-in-one power and 10-point multi-touch display action. There are two new models, the first of which has a 23.6-inch display, the other having a massive 27-inch display. Both devices have the same amount of pixels in their touchscreen display, Windows 8, and 10-point touch, but the architecture that backs them up is custom-fit to make sure each machine is its own beast.
The Samsung Series 7 all-in-one 23-inch PC brings Genuine Windows 8 64-bit software with it right out of the box. It's also got a 1920 x 1080 pixel resolution display and a lovely Ivy Bridge processor under the hood. The 23-inch model's processor is an Intel Core i5 – 3470T and is paired with 6GB DDR3 system memory at 1600MHz. The hard disk drive on this model is 1TB large, and the machine will be popping up on 10/26/2012 for MSRP $1099 USD.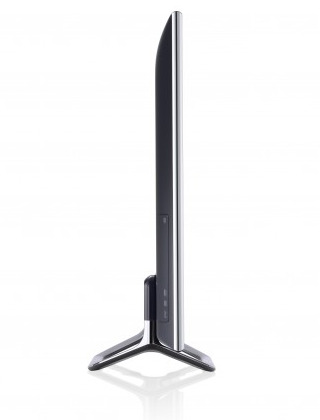 Another model, the Samsung Series 7 all-in-one 27-inch PC will be popping up on the same date for $1699 USD (MSRP). This machine will have 1920 x 1080 pixel resolution as well, and it'll be sporting Genuine Windows 8 64-bit too. Under the hood you'll be getting a high-powered Ivy Bridge processor to keep you strong as well – this time it's the Intel Core i7 – 3770T and is paired with a larger 8GB DDR3 bit of system memory at 1600MHz. You also get a 1TB hard disk drive here, and both models look rather fashionable, too – have a peek above and below to see the 27-inch machine in all its glory.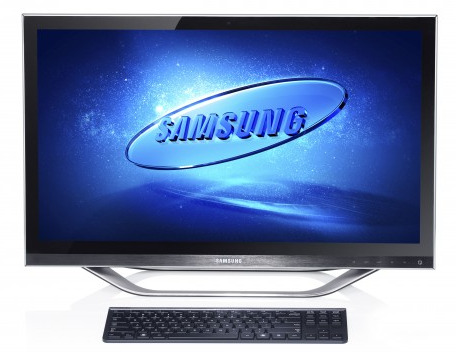 Both of these machines also work with five simple hand gesture recognition features. Working with each of the devices' 1.3 megapixel front-facing cameras you can be up to three feet away from the machine and make gestures with your wrist (in a variety of ways) that flip a page, start a video, and generally allow you to move around your media with ease. Rotate your palm clockwise or counter-clockwise to change the volume on a video, close your hand to click, or wave your hands to stop a movie altogether. Both machines also come with a wireless keyboard, a wireless mouse, and a lovely remote control.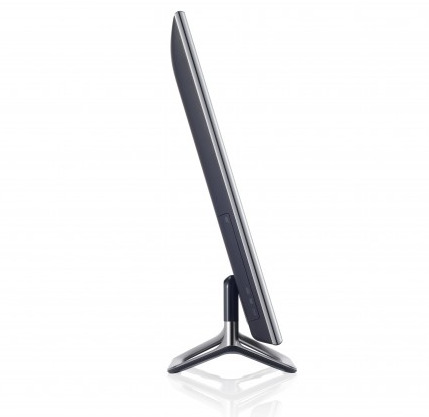 We'll be bringing you all kinds of Samsung action as well as Windows 8 touchscreen-loving devices all through the week as we continue to cover IFA 2012. Head to our IFA 2012 tag to see all of our on-site and event-related content, and stay close to the Samsung tag for everything from the manufacturer that's tying it all together with their own Samsung-branded set of apps galore (think Galaxy devices) – more on that later this week!