Samsung SD590C curved display aims for gamers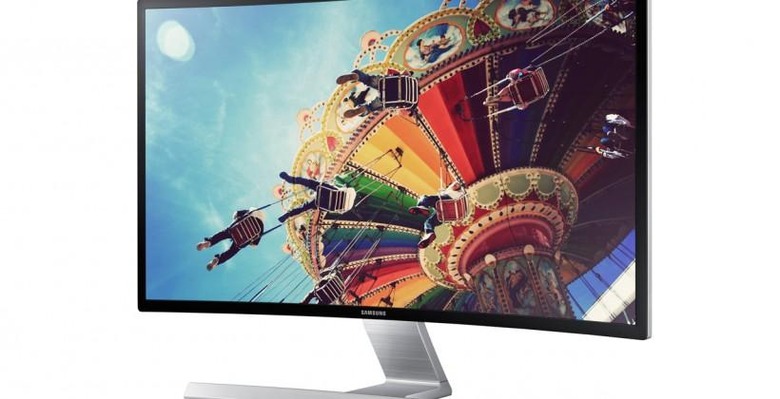 Would that you were a gamer right this minute, you're likely not using a gaming-oriented Samsung display. That may very well change in the near future as the 27-inch Samsung SD590C is introduced, complete with a display that's 1920 x 1080 pixels dense, LED with Mega DCR, and rolling with a panel that's curved (VA/ 4000R).
This display comes with a control joystick at its back, much like many of the higher-end HDTVs the company has released over the past several years. The stand the SD590C sits on is a standard T-shape, and you'll be able to mount the entire device to the wall with a 100x100 wall mount.
"Game Mode" is Samsung's newest way to hit the right buttons for game-loving citizens. With this mode, Samsung promises the following action items:
• Intelligent detection of changes in scene, "enhancing color ... altering the screen's contrast to make the darks darker and the lights lighter."
• Curved screen and Game Mode make "the action more lifelike than ever."
• Game Mode allows users to "see all the action at all times, even in the darkest scenes."

There's also Game Boost, enhancing the sound coming from built-in 5-Watt, 2-channel dual stereo speakers.
• Equalizers adjusted to "make sound effects sound true to life."
• Important game noises "stand out over the background music" – this includes items like car noises in a driving game, explosions in an action game, "character sounds" in a role playing game.
Video input includes one Display Port, one HDMI, and one D-sub. You'll also have PC audio in and stereo audio out with a headphone port.
This monitor will be coming to the United States (and only to the United States, for now) for a cool $429.99 MSRP. Beginning in October (on the 1st, as it were), you'll be able to pick this monitor up wherever fine monitors are sold.