Samsung schedules Unpacked August 13th: Note 5 ahoy!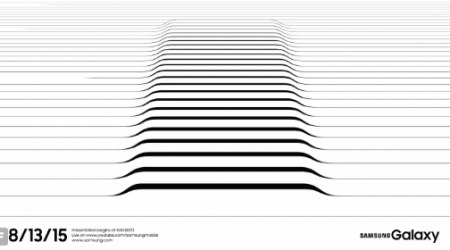 This week is bringing events from a few big companies, but Samsung is not one of them. Instead, the Korean company will be having its next event in mid-August, but before that it has started teasing what we can expect. The company fired out some invites today, announcing that it will be showing off its next big thing on August 13, and it followed the invites with an animated teaser on its Twitter account — we see rolling lines, and they (probably) mean there's another curved display inbound.
Samsung teases that the "Next Galaxy" is coming next month, and it has elected to use the animation shown in the tweet below — dark lines rolling over the silhouette of a phone that appears to have gently curved edges on both sides. Speculation has it this is the Samsung Galaxy Note 5, of which we've seen several leaks in recent days.
#TheNextGalaxy is coming. See what's next on August 13. http://t.co/8YGETdtuo7 pic.twitter.com/CSaKrroj1h

— Samsung Mobile (@SamsungMobile) July 27, 2015
As of last week, the leaks indicated as follows: the Galaxy Note 5, as you expect, will be big, but the design will refreshed, hinting more at the Galaxy S6 rather than its older Note sibling. Sources say it'll feature a 5.7-inch display with a 1440 x 2560 resolution, a Qualcomm Snapdragon 810 processor (or a Exynos 7422), 4GB or so of RAM, and up to 128GB of storage.
Word also has it the upcoming Note 5 will feature a 3220mAh battery, an 8MP front camera, 16MP rear camera, and an S Pen. Of course, these are rumors at this point and yet unconfirmed; we'll know for sure in the next three or so weeks.
When August 13 rolls around, you'll be able to watch the event live as it happens on Samsung's website; it starts at 11AM EST. As always, we'll have all the details for you live as they arrive, so be sure to stay tuned. Until then check out the timeline below for recent Galaxy Note 5 leaks!