Samsung SC-MX20 solid-state camcorder targets YouTubers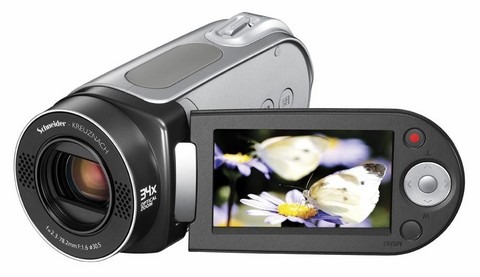 Samsung must have sold enough of its solid-state SC-MX10 camcorder to make a sequel viable, as the company has just announced the SC-MX20.  With a similar casing to its predecessor, the MX20 is firmly aimed at the YouTube crowd; its 680K pixel CCD with maximum 720 x 480 resolution and standard H.264 compression both concentrate on packing the most footage into whatever SD card you have to hand.
With no onboard storage, you'll be looking to pick up an SD/SDHC card.  Samsung claim up to four hours of footage using an 8GB memory card, eight hours with 16GB, and up to 16 hours using a 32GB card.  Battery life is rated as up to three hours.
As well as a 2.7-inch swivelling LCD display there's a 34x optical zoom with Schneider lens.  A "Web & Mobile" mode automatically flips the camera into 640x480 (H.264 / AAC / MP4) recording, optimized for online use, and Samsung include CyberLink video editing software.  Available in black, red, white, and blue, all with silver trim, it'll ship in August 2008 with a MRSP of $279.99.