Samsung S8300 AMOLED touchscreen 8MP cellphone coming March 09?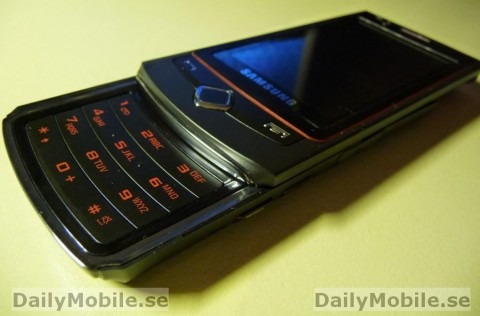 Details of an AMOLED touchscreen slider cellphone from Samsung have emerged, complete with an 8-megapixel autofocus camera and GPS.  The Samsung S8300 has a 2.8-inch WQVGA 16m color AMOLED touchscreen and a widget-based interface; external hardware controls are limited to a D-pad and call/end buttons, although there's a full numeric keypad on the slide.
The S8300's casing is made from duralumin, with an anti-scratch and fingerprint-resistant coating that should hopefully give it at least a fighting chance in your pocket or purse. Inside there's Bluetooth 2.1, 7.2Mbps HSDPA and an FM radio with RDS, as well as a DivX-compatible media player.
Onboard storage is expected to be in the region of 60MB, expandable via microSD; the S8300 is just 12.8mm thick. We're particularly fond of the bright orange slide-section, which contrasts nicely with th otherwise sober casing. Expect to see the Samsung S8300 on sale in March 2009.