Samsung S5200, M2310 and M2510 make quiet debut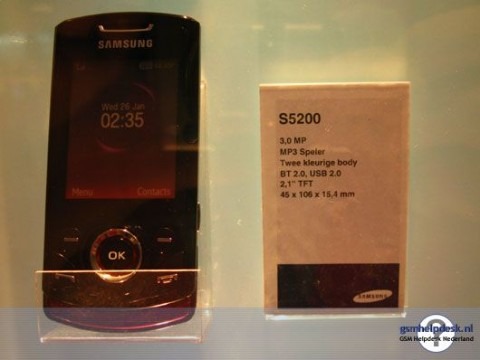 Three new Samsung cellphones have shown up at a small tradeshow, the S5200, M2310 and M2510.  Each low to mid-range handset appears to share some design and functionality features with Samsung's top-tier devices, such as the UltraTOUCH S8300 or BEAT DJ.
The Samsung S5200 has a 2.1-inch LCD display and slide-out numeric keypad; it bears some resemblance to the S8300, but lacks that cellphone's touchscreen.  Instead, it makes do with a 3-megapixel camera, Bluetooth 2.0 and USB 2.0, in a body measuring 45 x 106 x 15.4mm.
As for the two M-series handsets, the M2310 and M2510, they carry a little of the BEAT DJ's DNA.  The former is a clamshell with a 2-inch QVGA internal display and more compact external screen; it also has music control keys for the onboard MP3 player, and Bluetooth 2.1 which we're assuming will support A2DP wireless stereo headphones.  The camera, though, is only VGA resolution.  The whole thing measures 93 x 43 x 17.6mm and weighs 84g.
Finally the M2510 is another slider, with basically the same functionality and specifications as the M2310 but with the alternative form-factor.  It measures 97 x 46 x 16mm and weighs 85g; Samsung also list it as having an FM radio, which isn't mentioned on the M2310 spec-sheet.
No word on pricing, availability or market as yet, but we're expecting relatively budget tags on all three.