Samsung rumored to roll out fingerprint scanning on future Galaxy devices

It seems Apple isn't the only company working on fingerprint scanning technology. It looks like Samsung is also getting into the biometrics business with a solution of their own. Deep within the Galaxy S III file system, some images have been discovered that show off illustrated fingerprints, hinting to that possibility that Samsung may implement fingerprint scanning in future devices.
According to SamMobile, a tipster found the images within the SecSettings.apk at SecSettings\res\drawable-hdpi. This indicates that Samsung could be testing some type of fingerprint scanning technology internally, and these images could've been left on older Galaxy S III devices by mistake, or just hidden deep within the file system so that no one could find them, but that didn't turn out so well for them.
Then again, the images provide no indication of what exactly Samsung might have planned. We're given just a generic group of fingerprint art, along with an image that shows a user tapping on the home button (or scanning their fingerprint, in this context), as well as some plus signs and a checkmark. Some of the pieces fit together, but we can't be too sure, of course.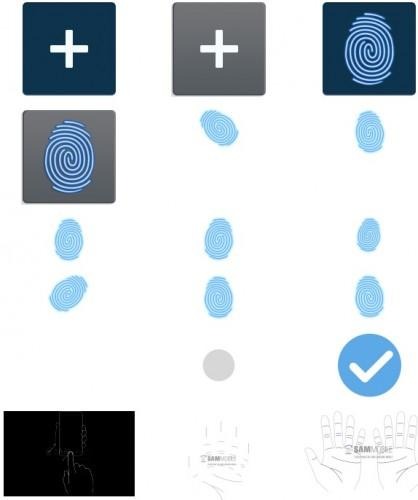 Apple has been rumored to bring fingerprint scanning to iOS devices for a while now. The company purchased security firm AuthenTec last year over the summer, as well as made a deal with biometric security startup Microlatch. Both of these business transactions could be a hint at the possibility of Apple getting into the fingerprint scanning industry.
However, we would take this with a grain of salt for the time being. Apple bought these companies before they released the iPhone 5, but biometric security was nowhere to be found on the new smartphone. It's still possible that Apple is continuing to work on the technology, which could mean that the next iPhone will come equipped with such a feature. As for Samsung, we could see fingerprint scanning on the Galaxy S 5, although that's a year away at this point now that the Galaxy S 4 is just being released.
SOURCE: SamMobile