Samsung Rugby Smart Review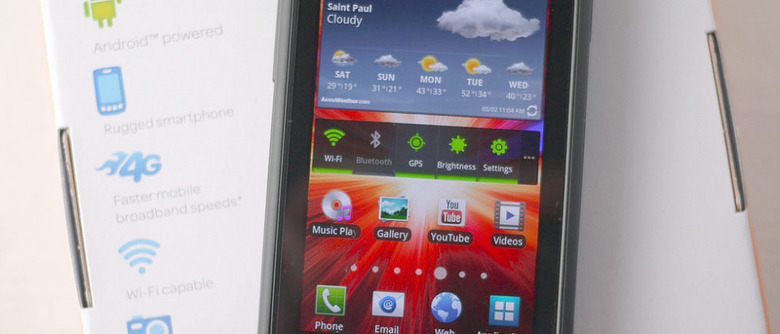 This week we've got our hands on the newest Samsung smartphone, and it's not a dual-core device, a quad-core device, or even a massively impressive in-between device with the ability to take amazing photos – it's a rugged mid-range device called the Samsung Rugby Smart. This device is a solid and relatively inexpensive smartphone being carried by AT&T at $99.99 on contract with the ability to defend against water, dust, shock, and inclement temperatures. It's also got at 3.7-inch WVGA Super AMOLED touchscreen display up front and a 5 megapixel camera on the back.
Hardware
While this device certainly is no match for the rest of the Samsung line of top-tier devices such as the Samsung Galaxy S II, and oddly enough, you can currently purchase the Galaxy S II for the same price on contract from the same carrier. You can either purchase this much less impressive smartphone for $99.99 with its single-core processor or the manufacturer's hero device for the same price: twice the power in almost every respect. Have a peek at our AT&T Samsung Galaxy S II review from a few months ago to check out the business.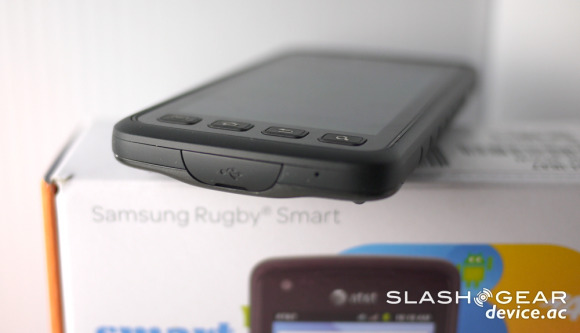 Then note this: this device is hardcore. It's got resistance to hot and cold temperatures, is dustproof and shockproof, and is able to take 30 minutes of submersion in 1 meter of water. This device meets US Mil-STD 810F specifications – that means it's ready to do some heavy duty action no matter what line of business you're in. Bring this device to the worksite, bring along with you to the beach, and give it to your kid to bring to school (but do note that it's not lost-proof!) The battery cover on the back is also locked down with a coin-operated lock – just turn the crank with a penny and go!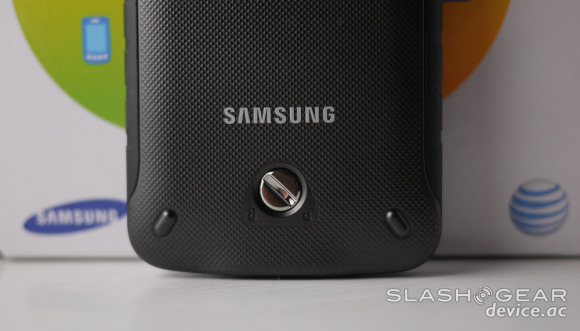 Software
Inside you've got Android 2.3 Gingerbread with Samsung's newest version of TouchWiz on top. This isn't the newest in that it's prepared for Ice Cream Sandwich, but is the newest version created for the slightly older Gingerbread version of Android. It's relatively slick, makes a lot of sense when you've got it set up against the rest of the manufacturer-created user interfaces out there today sitting on top of Android. This is the same user interface sitting on top of the Galaxy S II line and its very user friendly.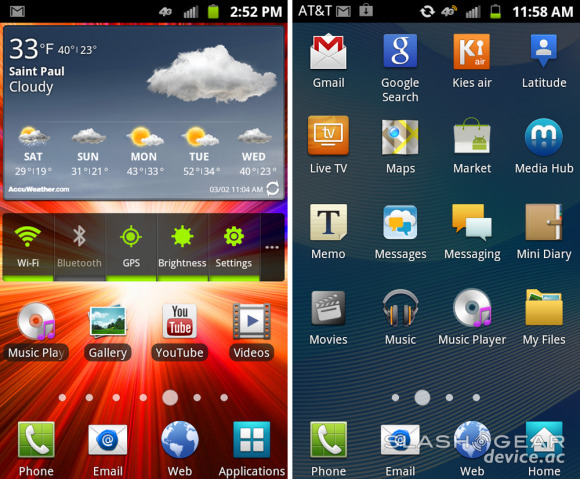 Aside from that you've got a lovely set of Samsung and AT&T-added applications alongside the general Google set of Android apps, and you've got the regular set of cloud-ready storage apps and general message and social interaction apps right out of the box. You've got full access to the Android Market as well, and you'll have no trouble running the general winners circle of hero apps like Angry Birds, no trouble. Here we've got a quick hands-on with the device and its out of the box software experience for you to glance upon – mark the speed and the comfort with which I handle the device:
[vms feae8ff06d57432016ce]
Have a peek at a couple of benchmarks here to see the innards of this device working with some standard tests. Quadrant Advanced and AnTuTu, and note the processor: Qualcomm single-core running up to 1.4GHz on an everyday average day.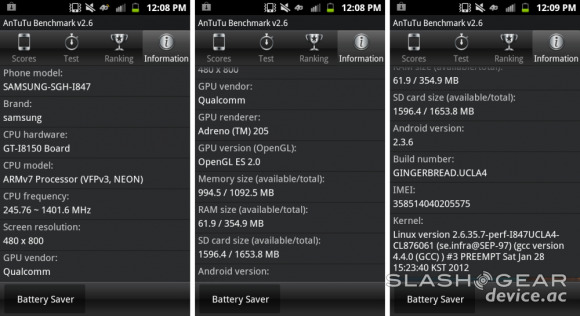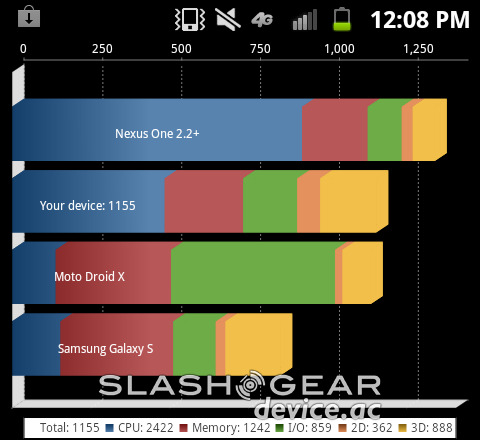 Camera and Battery
The normal sized 1650 mAh battery still lasts this device a full day without a problem due to the smaller display (again, 3.7-inches) and you'll only need to be charging this device once a day max, basically no matter what you do during the day. If for some strange reason you decide you want to stream video on this tiny monster, you'll have less luck with the battery. Otherwise you'll be getting a full day for sure.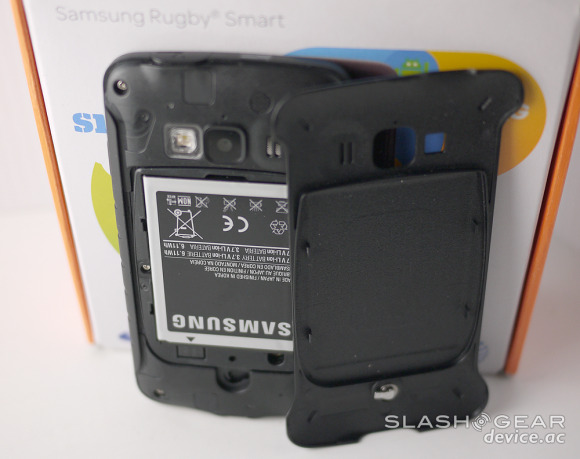 As for the camera – you've got a 1.3-megapixel camera on the front good for video chat basically exclusively and the back-facing camera is 5-megapixel camera also capable of 720p HD video. Have a peek at a few examples here and judge the quality for yourself:
[vms 83e5ae8ddd8b855d135d]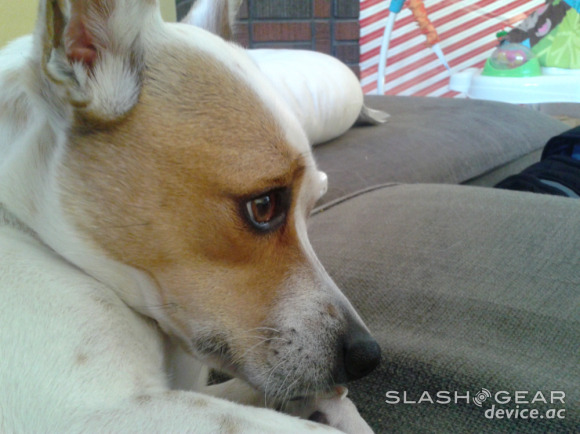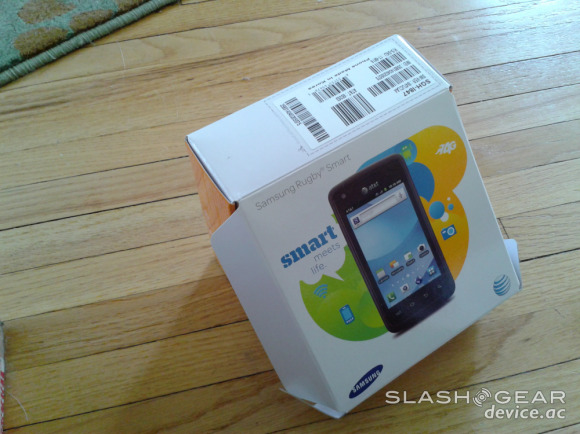 Wrap-up
Again I'm not entirely sure why you'd want to purchase this device when you've got the Galaxy S II available to you for the same price. The only reason why you'd want this device instead is the hardcore resistance, and when it comes down to it – toss any device down a mountain and it'll break in two. There's no reason to think this device wont suffice though for a construction job while the Galaxy S II might have a whole lot less luck surviving tall drops and dunks in aquariums.