Samsung REX series aims for Nokia's pie with "smart feature phones"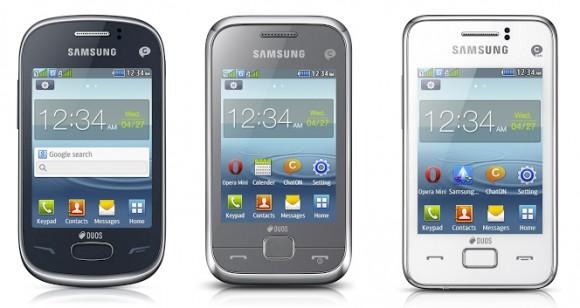 This week the folks at Samsung have revealed the REX series, what they're calling "smart feature phones" working with the company's own "TouchWiz" user interface – but this time without Android underneath. Each Samsung smartphone to have been released over the past several years either works with Samsung's TouchWiz UI or has been a rather unique addition to the family – the Samsung Galaxy Nexus was one of these, working with a Google-only version of Android per the "Nexus" brand's legacy. Now with a series of Java-based OS-running Smart Feature Phones, Samsung is ready to take on the world – and specifically Nokia's Asha lineup.
If you'll take a peek at the recent recent sales report on how Nokia Asha phones are selling, you'll see why Nokia is in the game in the low-end of the spectrum for cash. A whopping 12 Asha phones have been launched in the past 12 months by Nokia, and they've sold 16 million Asha phones in the latter half of 2012. So Samsung wants a piece of that pie – of course.
Today Samsung reveals the REX 60, REX 70, REX 80, REX 90, each of them with ever-so-slight differences between them. Each of them works with the TouchWiz interface that does look extremely similar to what it does on Android devices, and have full touchscreen interfaces with home-buttons to boot. Each of these devices has a call button and a hang-up button of course, they being the hallmark of any real-deal feature phone.
Each device comes with a Facebook app pre-installed as well as Opera for a web browser. You'll find the intelligent messaging app ChatOn in play along with a series of standard Samsung-made apps you'd normally find on Android-toting devices. The REX 60 works with a 2.8-inch QVGA TFT LCD display with a 1.3 megapixel camera on the back and the ability to work with Dual SIM functionality. The REX 70 has a 3-inch QVGA TFT LCD display and a 2 megapixel camera on its back with dual SIM action with "hot swap" – you also get Yahoo Messenger, Gtalk, and Facebook chat with this device – and Twitter too!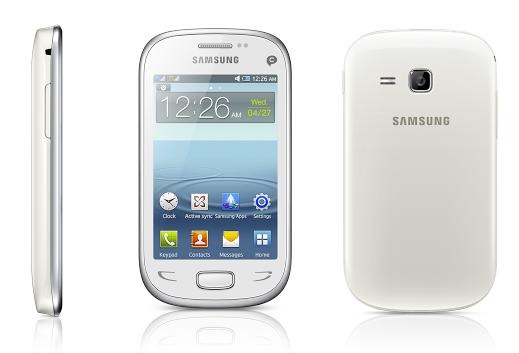 The REX 80 works with a 3-inch QVGA TFT LCD display and a 3.2 megapixel camera on its back with Dual SIM functionality and each of the messenger options listed for the previous models. The REX 90 (pictured immediately above) has a lovely 3.5-inch HVGA TFT LCD display and a 3.2 megapixel camera with each of the features listed on the lesser models. And each of these devices works with Bluetooth wireless connectivity as well as USB 2.0 and wifi – and they all connect to data with EDGE 850/900/1800/1900MHz.
[via Samsung]