Samsung reveals wireless Home Theater kit
Samsung's AirPlay-toting Audio Docks aren't the only home entertainment kit the company has for CES; there's also a three-strong line-up of home cinema speaker systems, ranging from 7.1-channel lounge-dominators to a slimline 2.1 speaker-bar setup. The Samsung HT-E6730W 7.1 Channel Blu-ray 3D Home Theater System is the most complex, packing 1,330W, a couple of towering column speakers with tilting cones to "vertically cascade" audio down on the listener, and integrated WiFi.
That WiFi connection allows the HT-E6730W to access social networks like Facebook and Twitter, browse websites and use Samsung Apps for other content. It's functionality shared by the Samsung HT-E5500W 3D Blu-ray Home Theater System, a 5.1-channel setup with twin HDMI 1.4a inputs, iPhone/iPod dock, "Disc to Digital" feature for ripping DVDs to digital copies (when the DRM permits it), and upscaling from DVD, streaming or other digital media to 1080p.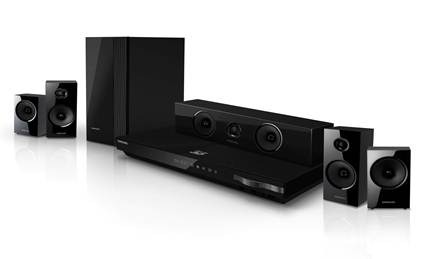 Finally there's the Samsung HW-E550 Surround Sound Bar, three slender rods making up a 2.1-channel system with virtual surround sound and proprietary 5.2/5.8GHz wireless connectivity between the upright left/right channel speakers and the primary soundbar. A separate subwoofer handles the bass.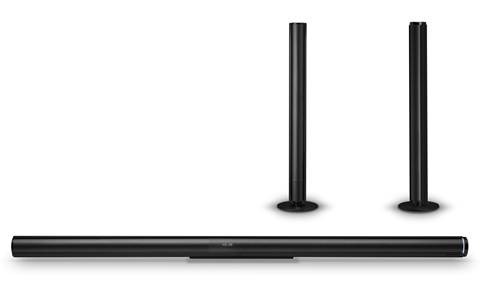 The HW-E550 gets twin HDMI inputs and an HDMI output, Bluetooth and USB. No word on pricing or availability for any of the three systems; we'll have to wait until SlashGear heads out to CES for that.