Samsung Reported As Top TV Brand In North America 1st Half Of 2011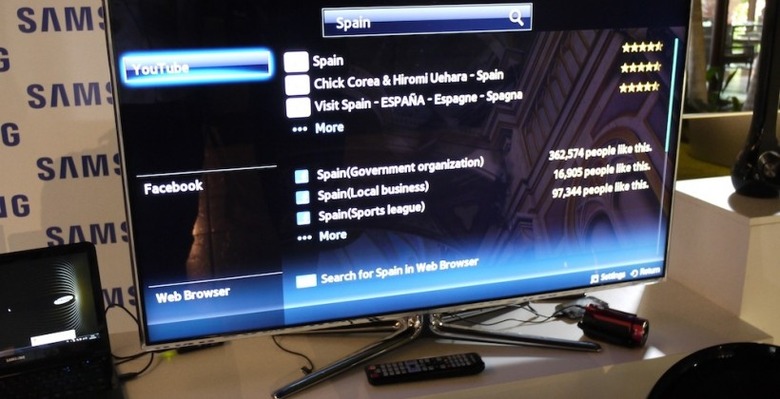 When you're the king of anything, it's important that other people understand and know that you're the king. When you're Samsung, and you're the king of television sales in North America over the first half of 2011, the people that are going to know about it, especially when it comes to investigating the legitimacy of such a claim, are DisplaySearch, Quixel Research, and iSuppli. Together they've produced findings today that tell a story that can only be construed one way: if you're an avid consumer, Samsung is more than likely sitting in your living room displaying all of your HDMI-converted content through a gigantic screen TV right this minute.
In the report released today, Samsung has been reported to have a 20.6 percent share of the TV market in North America, a 1.2 percentage point increased year over year compared to 2010, and its highest market-share position since the year 2009. As far as units shipped and revenue percentage for LED TVs during this same 1st-half of 2011 period goes, Samsung is at 23.8 percent and 32.02 percent respectively, while 18.2 and 25.4 percent shares for units shipped and revenue re-claim Samsung their top spot in the USA for LCD TVs.
As far as both plasma and LED 3D TVs, Samsung grew units market share to 45.4 percent in the first half of 2011 while their dollar share in 3D TV is currently at 42.9 percent. That's big, that's huge, that's dominant. As far as Quixel Research specifically notes, four out of five of the "top TV models sold in the U.S" in quarter two of 2011 were, you guessed it, Samsung televisions (this is based on dollar value). Along those same lines, market research firm IHS iSuppli reported that more than one in five TV purchases in the USA during the first quarter of 2011 had a screen size of 50-inches or larger, this being the new all-time high for screens of this size.
Samsung notes that they've released several TV sets to meet this giant demand for big-screen HDTVs. These models include their LED D8000 and LED D7000 flagships in screen sizes of 60 and 65-inches as well as a series of 64-inch plasma TVs. Inside these TVs, Samsung notes they're seeing a "strong consumer interest" in TV apps, reminding everyone that their HDTV version of their Samsung Apps store is active and doing quite well in percentage growth (500%) in content offerings since inception and a total of over 900 apps available at this moment globally. Samsung notes that the download of Samsung Apps are soon to be approaching 10 million and are doubling every three months amongst consumers the world over.