Samsung Replenish and Restore Promise Eco-Friendly Smartphone Action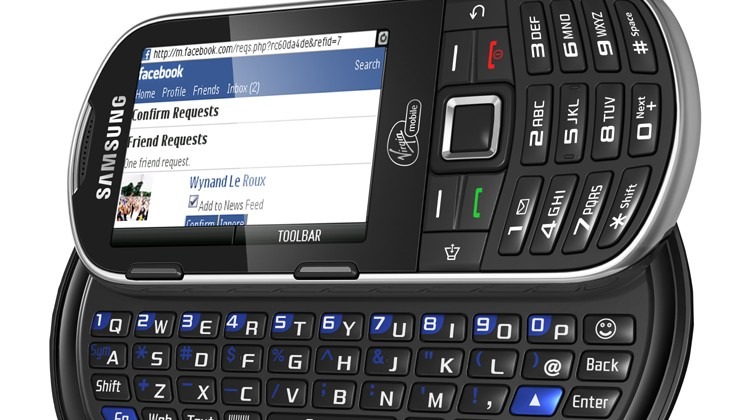 Today two phones have been revealed, one of them an Android phone, the other a feature phone, both of them from Samsung and claiming heavily that they'll be the most eco-friendly handsets on the market. First is the Replenish, a QUERTY keyboard toting Android phone coming out May 8th, then the Samsung Restore, a feature phone that'll be re-announcing itself on Virgin Mobile on April 18th. Both of these phones come in fabulous bright fruity color combinations.
First again, the Replenish – it's what they're calling the world's first eco-friendly Android phone, having been created partially with recycled plastics and recyclable packaging so that you can ALMOST just recycle the whole thing. This phone has a 2.8-inch QVGA main display, Android 2.2, a 2 megapixel camera on the back, gps, microSD card slot with the ability to hold up to 32 GB, and it has three color options: Onyx Black, Arctic Blue, and Rasberry Pink (this last color coming out in June.) But BEST of all, this phone is made to work with an accessory, (that you have to purchase separately,) that amounts to a solar panel for a back battery cover. Neat!
Then there's the Samsung Restore which is NOT an Android phone, has a nice little keyboard, access to the web, and Virgin Mobile's unbelievably awesome $25 a month unlimited data plan. This device also boasts some large amount of material that can be recycled. Green!
Have a peek at the full press release below as well as some photos of both handsets – that bright blue one doesn't look half bad!
Sprint Expands Environmental Commitment with

Launch of Fourth Eco-Friendly Device; Samsung Replenish

Packs Android and Sprint ID into $49.99 Smartphone

 

Sprint makes it easier than ever to go green without sacrificing technology by waiving $10 premium data charge on first green Android smartphone

SAN FRANCISCO and DALLAS – April 15, 2011 – Sprint (NYSE:S) today unveiled several progressive initiatives building on Sprint's environmental leadership in the wireless industry, including upcoming availability of the stylish Samsung Replenish™ from Samsung Telecommunications America (Samsung Mobile), the No. 1 mobile phone provider in the United States.1 Samsung Replenish, an Android touch QWERTY smartphone enabled with Sprint ID, will be available on May 8 at the affordable price of just $49.99 with a two-year service agreement and new-line activation or eligible upgrade. 

 

Sprint is waiving the $10 monthly premium data add-on charge for Samsung Replenish to make it easier for customers to make eco-friendly buying decisions. In addition, the Earth-friendly2 Samsung Restore™, first available from Sprint in 2010, will be offered to Virgin Mobile USA customers without an annual contract beginning on April 18.

 

"We want to make it as simple as we can for our customers to go green with a robust selection of products and competitive pricing," said Dan Hesse, Sprint CEO. "Samsung Replenish is as green as we could make it with more than 80 percent recyclable materials, housed in partially recycled plastics, energy efficient and built with fewer environmentally sensitive materials. As if this is not enough incentive, we are also lowering the monthly rate for this phone by $10 for new or existing customers so it pays for itself within just five months."

 

With four eco-friendly phones launched to date, Sprint has made available the most green devices and accessories of any U.S. wireless carrier. Marking another U.S. first, an optional solar charging battery cover will be available for Samsung Replenish. The solar battery cover and an Eco-cover made from Naturacell3 will be available for purchase on May 8.

 

Earth-friendly yet Powerful

Samsung Replenish, Sprint and Samsung Mobile's first eco-friendly2 Android smartphone boasting access to more than 150,000 apps in Android Market™, is partially built with recycled plastics4 and recyclable packaging5 making it the ideal choice for the environmentally conscious consumer who needs the latest technology. The phone will also be enabled with Sprint ID, which lets customers personalize their device instantly with eco-friendly focused apps and mobile content.

 

"We are excited to expand our portfolio of eco-friendly devices to now include the Samsung Replenish with Sprint, Samsung's first Android-powered eco-friendly phone, and the Samsung Restore with Virgin Mobile," said Dale Sohn, president of Samsung Telecommunications America. "Both the Replenish and Restore offer an impressive feature set with hardware made from recycled materials and eco-centric2 packaging, giving customers the option to have an eco-friendly phone without having to compromise features and functionality."

 

The stylish, full-featured Samsung Replenish includes:

• Touch QWERTY bar phone with 2.8-inch QVGA main display

• Android 2.2, Froyo, with access to more than 150,000 apps on the Android Market

• Special access to Sprint ID Pack, including Green ID pack

• Solar door charging accessory (sold separately)

• 2MP camera and camcorder – upload, share and store pictures with Photobucket, Facebook®, MySpace® and upload video to YouTube™

• Wi-Fi® and GPS capable

• MicroSD card slot that supports up to a 32GB memory card

• Three color options – Onyx Black, Arctic Blue and Raspberry Pink (in June)

 

It has the following impressive eco-credentials:

• Reduced environmentally sensitive materials (RoHS compliant6, free of intentionally added polyvinyl chloride (PVC), brominated flame retardants (BFRs), phthalates and beryllium)

• Energy efficient, with a charger that meets the EC Code of Conduct on Energy Efficiency of External Power Supplies, Version 4, as well as a visual alert for full charge

• Casing includes 34.6 percent post-consumer recycled plastic content (the highest level in our eco-portfolio) and 82 percent of the device is made from recyclable materials

• Fully recyclable packaging that incorporates 80 percent post-consumer waste material and uses soy inks

• Includes a postage-paid envelope to recycle your old phone and promotes a virtual user guide available on the Sprint website – www.sprint.com

 

Samsung Replenish requires activation on one of Sprint's Everything Data plans. The Everything Data plan with Any Mobile, AnytimeSM includes unlimited text, Web and calling to and from any mobile in America while on the Sprint network, starting at just $69.99 per month – a savings of $39.99 per month vs. Verizon's comparable plan with unlimited talk, text and Web (pricing excludes surcharges and taxes).

 

As the first green2 device from Virgin Mobile, Samsung Restore will cost just $79.99 (taxes and surcharges excluded) with no annual contract. Virgin Mobile offers Beyond Talk™ unlimited data plans starting at $25 per month.

 

Samsung Restore is a full-featured messaging whiz, offering access to Sprint's 3G Network, a slide-out, four-row QWERTY keyboard, 2MP camera and camcorder, Stereo Bluetooth® wireless technology and social networking shortcuts to Facebook, MySpace and Twitter. It boasts a 2.4-inch LCD screen with portrait and landscape orientation, built-in media player and easy navigation with Google Maps and Virgin Navigator. Samsung Restore meets Sprint Eco-Criteria, including reduced environmentally sensitive materials, energy efficiency and use of recycled materials. 

 

Sprint also recently announced the availability of the newest Sprint ID pack, the Green ID pack. This ID pack offers Sprint customers using select Android devices, including Samsung Replenish, the opportunity to personalize their phone with an unmatched eco-focused Android experience that provides mobile content to live green, shop green, recycle and more.

 

Sprint's new Green Sprint ID pack provides instant personalization in a single download with apps, widgets and mobile shortcuts on the user's device, and it features apps from eco-conscious favorites such as TreeHugger.com, Earth911.com, Green America and the National Audubon Society. Starting today owners of select Sprint devices, including Samsung Transform™, Samsung Epic™ 4G* and Samsung Galaxy Tab™, can load the Green ID pack onto their device. Samsung Replenish will offer the Green ID pack when it launches on May 8. Like all other Sprint ID packs, the Green ID pack is free to download with Sprint's Everything Data plan.