Samsung releases teaser video for CES 2013 Smart TV unveiling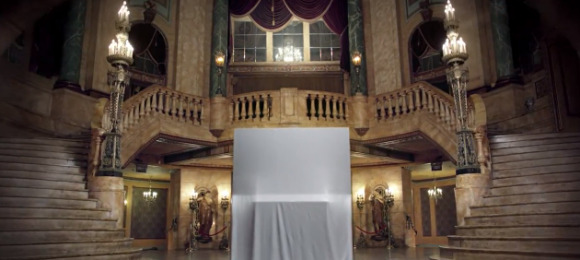 Earlier today, we reported that Samsung gave a nice peak at its updated Smart TV user interface, which it plans to show off at the upcoming 2013 CES tech event. A few hours later, the Korean company then dropped a teaser video on YouTube also hinting at the unveiling, featuring awestruck TVs traveling to behold a Smart TV draped in cloth. Check out the video after the jump.
The video itself doesn't tell us much in terms of what to expect of the new user interface, except perhaps that our TVs will crawl out the window and take the bus to go see it. A post Samsung made earlier today, however, states: "Samsung Electronics introduces a whole new "Smart Hub" at 2013 International CES in Las Vegas from Jan 8th. The new Smart Hub is Samsung Smart TV's dedicated contents platform where viewers can enjoy various contents such as real time broadcasting TV programs, on-demand movies, apps, and photos."
According to Samsung, the updated platform will offer a different background image and a simplified user interface to make it easier for viewers to find what they're looking for. As can be seen from the images, the content seems easy to both take in visually and flip through manually without much hassle either way.
While all the attention has been focused on the Smart TV user interface, there's been no word thus far about the televisions in terms of hardware – what is planned, what is to be expected, etc. What we do know is that the user interface update will be provided across Samsung's lineup, not just the Series 8 upon which it is demonstrated.
[via Samsung Tomorrow]