Samsung Q3 Profits Hit But Overtakes Apple In Smartphones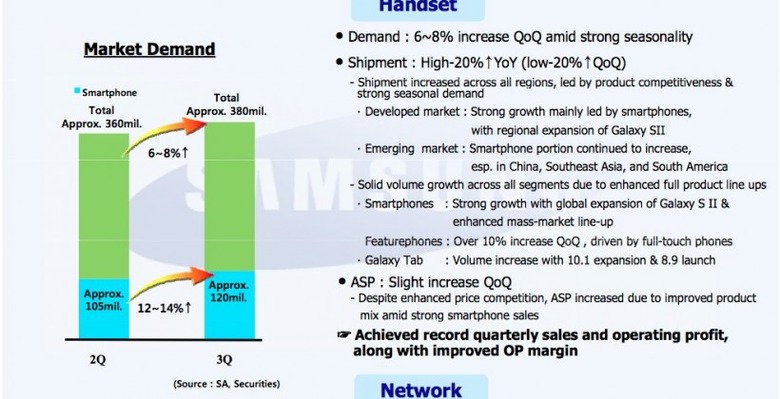 Samsung has announced its Q3 2011 financial performance, and while overall profit has taken a hit, the Korean company's smartphone sales have soared. Huge demand for the high-spec phones saw record quarterly sales and operating profit in Samsung's telecoms division, with Strategy Analytics estimating Samsung shipped 28m smartphones in the three month period and thus overtook Apple to take the number one spot in the segment.
Overall in the quarter, operating profit was 4.25 trillion won ($3.85bn), down 13-percent on the same period last year, while net profit was 3.44 trillion won ($3.1bn), down 23-percent. Q4 is expected to be more buoyant, with telecoms and semiconductors being the key focus.
Mobile sales rose 39-percent year-on-year to 14.42 trillion won (£13bn), up from 10.38 trillion won in the previous quarter. Sales overall – including Samsung's semiconductor, display panel, and digital-media & appliances businesses along with mobile amounted to 41.47 trillion won ($37.5bn), up 3-percent year-on-year, with telecoms being the only rising sales star among them.