Samsung pushes Galaxy S III-specific app for drivers

If you've got a
, you're right at the heart of the manufacturer's new push for total vertical integration – with today's step being "Drive Link", an app for driving in your automobile. This application makes use of some of the abilities your device already has – like in-car navigation – and puts it all into an easy-to-manage interface intended for use while you're driving. Of course
doesn't want you to be going 70 miles per hour down the speedway while you're tapping about, but the giant buttons here are certainly going to make it a lot easier.
This software is made for hands-free action as well, made available to owners of the Galaxy S III in 21 countries straight through their Samsung Apps portal on the phone. Drive Link makes simple the three most popular smartphone-based in-car activities: listening to music, talking hands-free, and driving to a destination with GPS-based mapping. This whole app conforms to a collection of safety certification standards, one of which is the standard set of the Japanese Automotive Manufacturers Association – Samsung assures us that this is one of the "world's strictest driver's safety regulation standards."
As Dr. Won-Pyo Hong, Executive Vice President of Mobile Communications Business at Samsung Electronics notes:
"Samsung is dedicated to providing our customers with the optimal Smartphone user experience in any environment. For many, driving is an integral part of their lives and Drive Link allows us to provide a considered solution for those wishing to use their Smartphone in car. With this application we ensure users can retain the core functionality of their smartphone while making sure their experience is as safe as possible." – Hong
The first screen you'll see is a welcome with time and weather information based on your current location. Included in the app is a set of appointments based on your entries with S Calendar. Address and contact information contained therein links you to associated apps when you need them. With the app's connection to your other GPS navigation mapping apps you're able to select from a collection of recent or favorite destinations or find a brand new location to navigate too.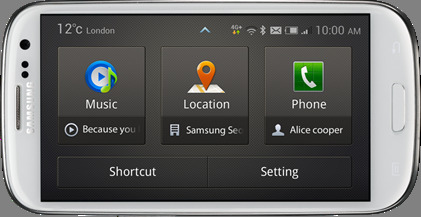 If you get a text while the app is open, one tap will have your Galaxy S III reading the text aloud to you. This app is able to work with your car's In-Vehicle Infotainment system in a collection of cars using MirrorLink. The Car Connectivity Consortium is currently holding MirrorLink as their standard for connectivity between head units and smartphones in next-generation cars. According to Samsung: "Current working head units include JVC's KW-NSX11), Alpine's ICS-X8, and Sony's XAV-701BT, XAV-741 and XAV-601BT.2). Additional compatible head units will be announced in the near future."
This app works with music files stored on your device physically and works with TuneIn version 6.2 or higher – that's internet radio for those of you that've never tried it out before. Samsung also lets us know that further compatible internet-reliant apps will be made available to this interface very soon. This app also works with Text-To-Speech in English(U.S./U.K) French, Italian, German, and Spanish. With TTS you'll be able to have not just your texts read aloud to you, but all messages, emails, and updates from social media websites as well.
This app also connects to your personal contacts saved in your phone so you can call directly with just the keypad in-app. The Drive Link interface is available via your Samsung Apps app on your Galaxy S III right now in the following countries: Austria, Belgium, Czech Republic, Denmark, France, Germany, Hungary, Ireland, Italy, Luxembourg, Netherlands, Norway, Poland, Portugal, Romania, Russia, Spain, Switzerland, Sweden, Ukraine, and United Kingdom. The app will also be reaching other countries and smartphones running Android 4.0 Ice Cream Sandwich in the near future – grab it when you can!