Samsung Propel Pro for AT&T leaks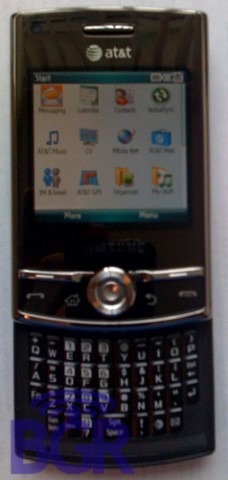 Details on the Samsung Propel Pro for AT&T have leaked out, the updated smartphone version of the original Propel launched on the network last October.  The Propel Pro throws out the original OS and replaces it with Windows Mobile 6.1 Standard (i.e. the non-touchscreen version), adding an optical joystick to navigate the new platform.  The original's slide-out QWERTY keyboard remains, as does its 2.2-inch display.
Full-sized images and more hands-on detail after the cut
Other features – such as the original version's 1.3-megapixel camera, microSD slot for augmenting memory, and A2DP stereo Bluetooth support – are presumably unchanged.  The Propel had dedicated buttons for launching the texting, emailing and instant messaging app, but it's unclear whether these have been tweaked to give Windows Mobile the keys it needs.
According to the person behind the leak, the QWERTY keyboard is "pretty decent" but the optical joystick is "absolutely worthless".  To be fair we didn't have much luck with the optical joystick on another Samsung handset last year, the Omnia i900, though it's proved more functional on a non-touchscreen device like the Samsung INNOV8.  No word on release date or price.