Samsung Press Conference wrap-up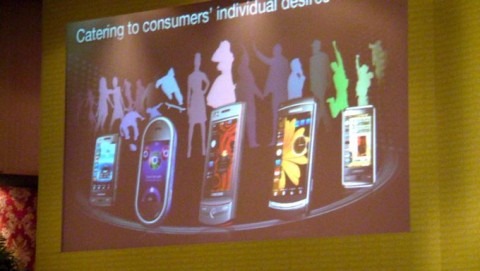 Samsung today announced three new touchscreen devices, the UltraTOUCH S8300, Omnia HD and The Beat Edition, under the strapline "A Mobile to touch every lifestyle".  Samsung expect 2009 to be the year of the full touchscreen device, and as such the three new handsets address very different demographics.  The UltraTOUCH is a slick feature-phone with a slender slider form-factor, the Omnia a powerful Windows Mobile smartphone based on the existing device of the same name, but new HD capabilities, and The Beat Edition, a music-centric handset with DJ-style controls and functionality
As we've already seen the UltraTOUCH S8300 is an 8.1-megapixel feature-phone; meanwhile the Omnia HD is the world's first HD-capable smartphone, capable of recording high-definition footage, playing it back via DLNA, taking 8.1-megapixel images, and uses Samsung's new multitasking GUI on the world's largest AMOLED touchscreen on a mobile device.  Finally, the Samsung Beat Edition has stereo audio with Bang & Olufsen amplification, SRS WOW 5.1 pseudo-surround sound and a unique GUI intended to represent a DJ workstation.  There's also a media-focused navigation system, with music tagging, recommendations and has a microSD slot happy with 16GB cards.
While the interfaces of all three devices are relatively different, Samsung are saying that they each comprise the company's three primary areas of focus: mobile broadband integration, device content sharing, and a streamlined GUI.  They also pledged to develop mobile devices that address environmental issues and aim to "preserve life on Earth", with their Blue Earth scheme; the name comes from the fact that, from space, the Earth looks blue not green.  As a demonstration of that, the first Blue Earth device will be another touchscreen device.  The Samsung Blue Earth has a solar-panel built into its rear-cover, and is made from recycled plastic.  It ships with a 5-star EnergyStar rated charger and packaging made from recycled materials.
Samsung expect continuous growth in 2009; the company was the fastest growing in 2008.  They also expect 114m touchscreen devices to be sold in 2009, almost double sales in 2008.  The company wouldn't give details, but they did promise a launch of the first Samsung Android handset in 2009.  To be honest, we're less than impressed with what Samsung brought along to the show; we'll have the full press releases up shortly.