Samsung Pixon12 12MP AMOLED cameraphone announced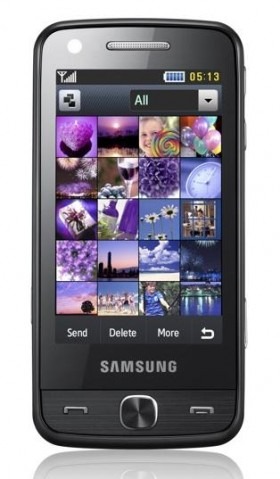 Samsung have announced their 12-megapixel cameraphone, the Pixon12 M8910.  Controlled via a 3.1-inch AMOLED touchscreen, the Pixon12 is a quadband GSM, dualband (900/2100MHz) HSPA device with WiFi and GPS, while its all-important camera has autofocus (controlled by touching the preview screen), subject-tracking, a 28mm wide-angle lens and a combination Xenon and Power LED flash.
As well as 12-megapixel images, the Pixon12 can also shoot 720 x 480 resolution video at up to 30fps, recording to its 150MB of internal storage.  Since that's not going to hold up to many full-resolution pictures there's a microSD slot happy with up to 16GB cards.  Once you've snapped, you can upload to Facebook, Flickr and Picasa via Samsung's SharePix service.
There's also an FM radio with RDS, 10,000:1 contrast ratio display and super-speedy image saving (two-seconds between shots).  The Samsung Pixon12 M8910 is expected to land in Europe come the end of June, with further availability in August; no word on pricing as yet.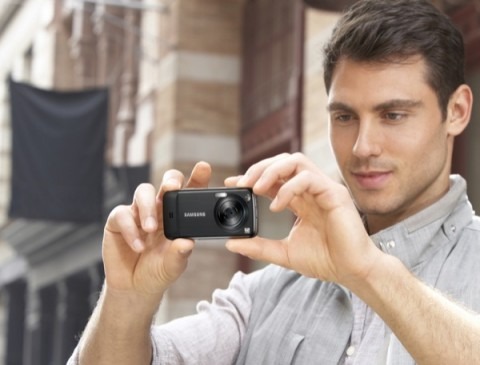 Press Release:
Shoot, See and Share with Samsung Pixon12,

The world's First 12 Megapixel Camera Phone

The world's first 12-megapixel camera phone for instant photo shoot & view

will be available in Europe from end of June

Seoul, Korea, June 1, 2009 – Samsung Electronics Co. Ltd., a leading mobile phone provider, today reinforced its leadership in the high megapixel cameraphone market by unveiling Samsung Pixon12 (M8910) – the world's first 12-megapixel camera phone with full-touch screen.

A response to today's consumers who demand robust camera features in their mobile phones, the Pixon12 comes packed with a host of functions which enable consumers to easily capture, browse and share their images on the move – all on a brilliant full-touch 3.1-inch AMOLED screen.

"The Pixon12 is testament to how Samsung's ongoing consumer research enables us to develop ground-breaking products that do not just meet but surpass our customers' expectations. Speedy access to the camera mode, fast shutter speed and quick browsing are some of the key factors consumers are looking for in their mobile phone cameras" said Executive Vice President JK Shin, Head of Mobile Communication Division in Samsung Electronics.

He added, "We are very pleased to introduce the world's first 12-megapixel camera phone that holds the answer to these pressing consumer needs."

Instant Shoot

The Samsung Pixon12 enables users to take perfect pictures quickly and easily, thanks to a Dedicated Camera Power Key which gives users fast one-touch access to the camera function. Once the camera is turned on, users can aim and snap, capturing images as fast as today's advanced digital camera. Samsung Pixon12 also features fast image saving for next shot, so users can move to next shot within around 2 seconds.

The phone provides the best photo quality by adopting innovative camera features. With Touch Auto-Focus (AF) tracking, users can simply select focus point with the touch of a finger, after which the AF function will automatically follow the object, keeping it in focus even as it moves across the screen. Moreover, Smart Auto feature allows users to capture the perfect images as the camera automatically changes the scene and mode based on its object, background and lighting.

Images taken on the Pixon12 are worth showing off to friends and loved ones as they boast digital camera quality thanks to the phone camera's superb lens and Xenon flash.

The 28mm wide angle lens also allows a better perspective and more full capture of a scene for consumers.

Instant See

After they are done snapping, users can re-live and enjoy the pictures on the Pixon12's brilliant 3.1" AMOLED screen. The screen boasts a contrast ratio of 10,000:1 while providing power-saving features which increase battery life.

Finally, the Pixon12 enables users to easily organize and manage photos with multiple ways of sorting – by tags, file names, ratings, and time. In addition, the multi-selection feature enables users to pull up images in groups rather than one by one, making viewing and editing photos much easier.

Instant Share

With Samsung Share Pix, the Pixon12 lets users easily upload images and videos to popular social networking sites such as Facebook, Picasa, Flickr, MySpace, Photobucket, Friendster – a breeze. Add to that, the phone's high-connectivity functions including Wi-Fi and HSUPA capabilities mean that user's photos can be shared to their friends in no time.

The Samsung Pixon12 will be available from end of June in European countries and it wil be expanded to other regions in August.