Samsung PixelSense LCD multitouch displays hit mass production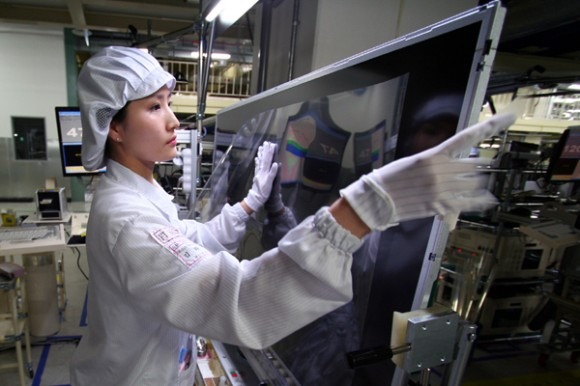 Samsung isn't just relying on Microsoft's second-gen Surface SUR40 for sales of its in-pixel multitouch LCD panels: the company has begun mass production of the 40-inch display, and is eyeing other potential implementations of the 50-point multitouch system. What makes Samsung's screen special is the PixelSense optical sensors, embedded in with the display itself, and capable of not only tracking multiple points of finger contact, but of capturing images of whatever objects are placed on top of it.
Since putting things on top of displays normally ends in cracks and weeping, Samsung has outfitted this particular panel with a sheet of tempered glass that can withstand 80kg. However the expectation is that it will be used for eye-catching (and convenient) tricks like scanning documents placed on top or – since wall-mounting is an option – held against it.
The LCD itself runs at 1080p 1920 x 1080 Full HD resolution, with 178-degree horizontal and vertical viewing angles. It has a 2,000:1 contrast ratio, a brightness of 300 cd/m2 and an 8ms response time.
Samsung reckons it can "actively take the lead" in the large-scale touch display market, though hasn't spilled details on what clients other than Microsoft it might have. It's also unclear whether the multitouch panel might show up in consumer Samsung TVs, though the company would have to extend the range that PixelSense could track objects if it wanted to, say, integrate the motion-tracking experience of a Kinect sensor.
Microsoft Surface SUR40 demo: