Samsung P410M projector now available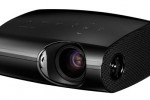 You may recall back in June we talked a bit about the Samsung P410m compact projector. The little device was designed to be the mobile pro's best friend when it comes to giving presentations. The tiny projector measures in at 5.8" W x 2.5" H x 5.7" D making it much smaller than your average projector.
What we didn't know when we first caught glimpse of the projector back in June was how much the device would cost and when it would hit the market. Samsung officially debuted the device at CEDIA last week and the P410M is available now for $599.
In addition to being small in size the projector is also lightweight at two pounds. Samsung also designed the projector to be quiet producing only 32dB during operation. The Projector uses DLP LED technology and can reproduce 140% of the NTSC color gamut. Stereo speakers are built-in and the device has VGA and RCA composite video inputs along with a USB port for presentations without a PC.