Samsung P410M Compact Projector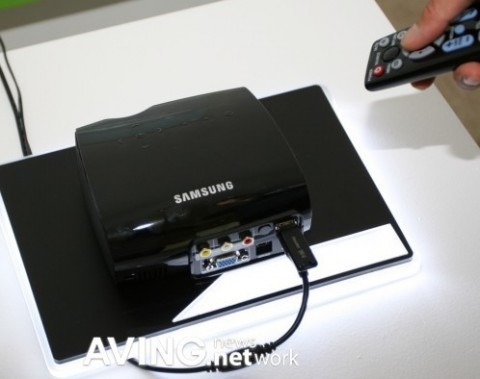 Samsung have taken the wraps off of their latest pocket-projector, the P410M, and while you'd certainly need reasonably-sized pockets to carry it, it perhaps makes up for things by offering higher than usual specs.  The P410M boasts up to 800 x 600 resolution and a 1,000:1 contrast ratio, together with inputs that include VGA, composite and a USB port.
There's also a full remote control, 170 lumen brightness and an LED lamp rated for up to 30,000 hours usage.  Twin 1W speakers handle stereo sound, though probably aren't something you'd like to listen to a whole feature-film on.  Unfortunately there's no sign of a battery, so it looks like the P410M is mains-only.
While there's no confirmation at the moment, the P410M looks suspiciously like the Samsung PhlatLight prototype projector we saw back in June 2008.  Then, production models were tipped before the end of the year, but its obviously taken a little longer to get this Samsung out of the door.