Samsung Omnia Pro 4 and Pro 5 prolong the WinMo agony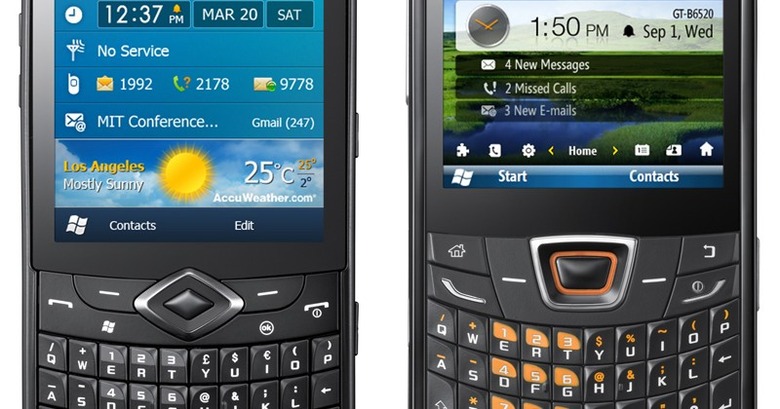 Samsung's final new phones for today pick up the not-long-for-this-world Windows Mobile 6.5 OS, with the Samsung Omnia Pro 4 B7350 and Samsung Omnia Pro 5 B6520 each toting full QWERTY keyboards and, on the Pro 4, a touchscreen too.  The Omnia Pro 4 has dualband (900/2100) 3G, a 2.62-inch 320 x 320 touchscreen and a 3.2-megapixel autofocus camera, while the Omnia Pro 5 has triband (900/1900/2100) 3G, a 2.4-inch 320 x 240 display and a 2-megapixel camera.
Both have WiFi b/g, Bluetooth and a A-GPS, along with an FM radio and a microSD card slot.  Since Windows Mobile is enterprise-minded, there's obviously push-email support, and Samsung preload the decent Opera browser since Mobile Internet Explorer isn't too hot.
The Samsung Omnia Pro 4 will be available from July in European Countries, CIS and South Eastern Asia and Omnia Pro 5 will be available from August in SEA, MEA regions, India and Latin America.  No pricing has been announced at this stage.
Press Release:
Samsung unveils smart, social business companions with new Omnia Line-up

Omnia Pro 4 and Omnia Pro 5 bring integrated social experiences to uncompromising young professionals

Singapore – June 15, 2010 – Samsung Electronics Co., Ltd., a leading mobile phone provider, today unveiled the Omnia Pro 4 (B7350) and Omnia Pro 5 (B6520), operated on Windows Mobile 6.5. The devices, on display at CommunicAsia Singapore, are powerful business tools that bring an integrated social experience to busy work schedule.

The Omnia Pro 4, with an interactive touch screen and a full QWERTY keyboard, deliver maximum efficiency – ideal for responding to an early morning email or browsing the Web for research. An immersive and responsive touch screen allows users to intuitively browse through photos, music files, and video clips.

The Omnia Pro 5 keeps its style and compactness with the colored QWERTY keyboard. The smartphone that's both sleek and professional will allow users to achieve maximum productivity away from the office.

"We are continuing to build on the success of the Omnia smartphone with an updated product lineup that caters to the unique needs of young professionals and executives," said JK Shin, President and head of the Mobile Communications Business at Samsung Electronics. "The Omnia Pro 4 and Omnia Pro 5 deliver a smart, stylish mobile companion that combine productivity and multimedia functionality."

Your Mobile Business Partner

Microsoft Office Mobile 2010 will enable office-like productivity on your Samsung Omnia. You can access and edit files right on your smart phone and type efficiently with the ergonomically-designed QWERTY keypad. Office Communicator Mobile allows you to use the same phone number for your mobile and office, so you only have to put one piece of contact info on your business card.

You can join a Cisco WebEx online meeting on the Omnia Pro 4 and collaborate with colleagues around the world. WebEx meetings are supported on the Omnia Pro 4 with simultaneous audio and web conferencing allowing users to view shared presentations, see who joined the meeting, and see who's speaking and even chat with them.

The Omnia Pro 4 and 5 are also certified by Sybase Afaria, which allows secure access to enterprise applications, creating a seamless business experience regardless of where you are.

Instant Connectivity

With Samsung's Omnia Pro 4 and 5, users can access the info needed while at a conference, and stay connected to the personal networks while on-the-go. Built-in social networking applications and multiple instant messaging platforms enables users to instantly connect and share content – whether it's a business presentation or a Facebook update. Wi-Fi, Bluetooth, and USB connectivity are also supported for seamless communications.

After Hours Entertainment

With a 3.5mm audio ear jack that accommodates standard earphones and "Sound Alive" technology, the Omnia Pro 4 and the Omnia Pro 5 will enhance music listening experience by superior effects and brilliant sound quality. For snapping the best moment, the Omnia Pro 4 and Omnia Pro 5 support advanced features like "Face Detection" and "Smile Shot" that automatically adjust settings. The smart, social Omnia phones are also ideal for simply watching video and sharing it with friends.

The Samsung Omnia Pro 4 will be available from July in European Countries, CIS and South Eastern Asia and Omnia Pro 5 will be available from August in SEA, MEA regions, India and Latin America.