Samsung Omnia II hitting Verizon December 2nd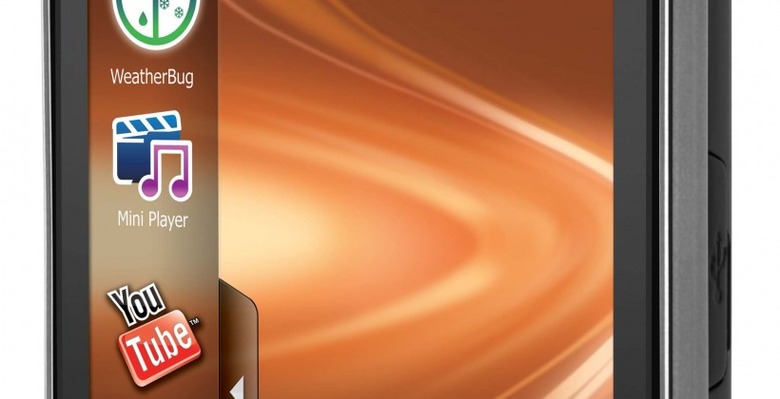 It comes as little surprise, given that we knew a release date from sneak-peaks into the carrier's own systems last week, but Verizon have officially announced that the Samsung Omnia II will drop come December 2nd.  The Windows Mobile 6.5 smartphone will be priced at $199.99 (after a wretched $100 mail-in rebate) presuming a new two-year agreement, which nets you a 3.7-inch AMOLED WVGA touchscreen, EVDO Rev.A, WiFi b/g and a 5-megapixel camera.
There's also Samsung's "3D cube" UI, which we're still less than convinced by, together with Bluetooth and a microSD card slot; Samsung also gave the Omnia II its own 8GB of internal storage.  The usual Verizon app suspects are on-board, which includes V CAST Music, Rhapsody support, V CAST Video-on-Demand, V CAST Song ID, visual voicemail, VZW Tones and VZ Navigator.
Perhaps more interestingly, given that screen, is the support for DivX and Xvid video files, meaning the Omnia II might make for a decent PMP replacement.  So, anybody thinking of picking up this touchscreen Windows Phone as an early Christmas present?
Press Release:
VERIZON WIRELESS ANNOUNCES THE AVAILABILITY OF THE SAMSUNG OMNIA II

November 23, 2009

Full Touch Screen Phone Features Windows Mobile 6.5 Professional, Swype Technology and One-Touch Access to Social Networking and Entertainment Features

BASKING RIDGE, N.J., and DALLAS – Verizon Wireless and Samsung Telecommunications America (Samsung Mobile) today announced the availability of the Samsung Omnia® II™, a full-touch all-in-one smartphone powered by Windows Mobile® 6.5 to keep customers connected to their corporate and personal e-mail accounts and synchronized with their schedules and contacts.

Available Colors: Black with red accents on the battery cover

Key features:

3.7-inch ultra-brilliant touch screen

Widescreen WVGA AMOLED (Wide Video Graphics Array Active-Matrix Organic Light-Emitting Diode) responsive touch screen results in one of the brightest and clearest displays on a mobile phone in the United States

Virtual QWERTY keyboard with Swype technology allows customers to input text faster and easier with one continuous finger or stylus motion across the screen keyboard

Features Windows Mobile 6.5 Professional, which keeps customers connected with corporate and personal e-mail and synchronization of schedules and contacts

Microsoft Office Mobile® enhances productivity with the ability to manage Word, Excel® and PowerPoint® documents

Enhanced 3D cube user interface

Full HTML Web browsing capabilities with Opera 9.5 enhanced browser

One-touch access to social networking sites via shortcut widgets

Supports Verizon Wireless services, including V CAST Music with Rhapsody, V CAST Video on Demand, V CAST Song ID, Visual Voice Mail, VZW Tones, VZ NavigatorSM, Mobile IM and Mobile Email

Additional specifications:

Full messaging suite, including SMS, MMS, Mobile IM, Mobile Email and Corporate Email

Access to social networking applications, including YouTube™, Facebook® and MySpace, with Samsung's unique TouchWiz™ 2.0 user interface

5.0 megapixel camera with flash and auto-focus and camcorder and decoder with DNSe technology and on-device editing capabilities

Wi-Fi technology (802.11 b/g)

Support for Divx and Xvid movie files

8 GB internal memory and expandable memory of up to 16 GB with microSD™ memory card (card sold separately)

Bluetooth® profiles supported: headset (mono and stereo), hands-free (car kits), object push for vCard, basic imaging, phonebook access profiles. Also supports serial port, dial-up networking, object push for vCalendar, file transfer, basic printing and human interface device profiles

Pricing and availability:

The Samsung Omnia II will be available online at www.verizonwireless.com and in Verizon Wireless Communications Stores beginning Dec. 2 for $199.99 after a $100 mail-in rebate with a new two-year customer agreement. Customers will receive the rebate in the form of a debit card; upon receipt, customers may use the card as cash anywhere debit cards are accepted.

For additional information on Verizon Wireless products and services, visit a Verizon Wireless Communications Store, call 1-800-2 JOIN IN or go to www.verizonwireless.com.