Samsung Omnia II hits Verizon on December 2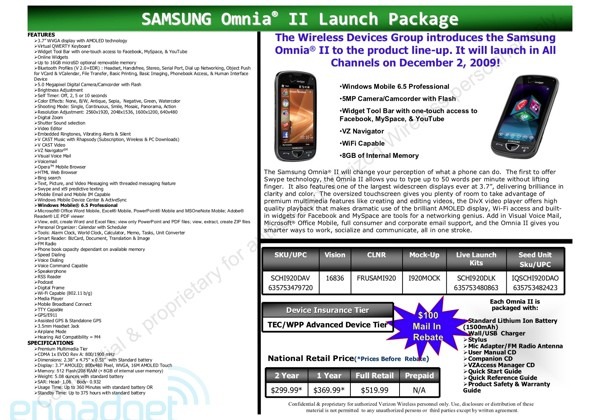 We saw the slick looking Samsung Omnia II when it first tipped up for preorder on Amazon earlier in the fall. The handset was cool and all, but the thing has a preorder price of $999 seriously hurting the attractiveness of the device. Engadget reports that it has had a look at the Verizon launch packet for the device and the handset it set to launch on the carrier on December 2.
The best news is that the handset will be a much more reasonably priced device once you sign away two years of your mobile phone freedom. The handset will sell for $199.99 after a $100 mail-in rebate. The phone has a 3.7-inch WVGA AMOLED display, 8GB of storage and a microSD card slot for expanding storage.
Other features include a 5MP camera and it runs Windows Mobile 6.5 Pro. Some feared the device might run WinMo 6.1 when we first caught wind of the device, so 6.5 is an improvement. Sounds like a nice handset and if you want one December 2 will be here before you know it.