Samsung Omnia i900 gets Android in dual-boot OS hack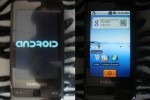 Industrious hackers have managed to get Google's Android OS to run on the Omnia i900, the first-gen Windows Mobile phone from Samsung.  The project currently loads Android from a microSD card, and in its early stages can't access the majority of the Omnia's hardware; that means no calls and no using the 5-megapixel autofocus camera.
Still, there's basic battery support and basic touchscreen compatibility, although that can occasionally freeze or prove temperamental.  All of the Omnia's 128MB of RAM is recognized, though the same can't be said for all its buttons.  Currently periodic crashes have to be fixed with a restart.
Still, Android boots, loads the kernel and shows the ticking clock, and you can dual-boot your handset between Windows Mobile and the Google OS.  All current Omnias are supported, including the i908 and i910.