Samsung Omnia HD gets official at MWC 2009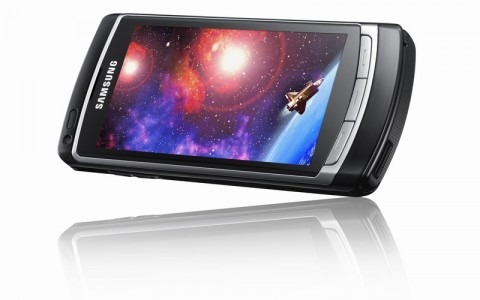 Samsung announced the latest iteration in the Omnia range today, the Samsung Omnia HD I8910, with a switch from Windows Mobile 6.1 to Symbian S60.  The Omnia HD has a 3.7-inch AMOLED touchscreen, capable of 16m colors, together with an 8.1-megapixel camera capable of recording 720p high-definition footage.
As well as the media functionality, there's HSUPA 5.76Mbps and HSDPA 7.2Mbps plus GPS. There's also an accelerometer to flip the display orientation, and a choice of storage options: either 8GB or 16GB onboard, together with a microSD card up to a 32GB in size.
Samsung have been tweaking the TouchWiz GUI, too, with a new internet-connected widget and even more customization options. No word on availability or pricing yet; we'll be getting hands-on video and photos soon. 
Press Release:
Samsung OMNIAHD Dazzles at Mobile World Congress with Its HD Brilliance

Barcelona, Spain, February 16, 2009 – Samsung Electronics Co. Ltd., a leading mobile phone provider, today unveiled its ultimate multimedia powerhouse with HD brilliance. OMNIAHD is Samsung's first Symbian full-touch handset, and features the world's first 720P HD video recording and decoding on mobile, as well as the world's largest AMOLED screen on mobile. Samsung launches OMNIAHD at Mobile World Congress in Barcelona, as part of its portfolio of innovative mobile devices that incorporate the latest multimedia features and fastest data communication, to offer a complete media solution for consumers.

Samsung OMNIAHD is the newest, high performance full-touch screen phone that brings together style, multimedia and business performance in one device. The mobile follows on from the phenomenal success and heritage of the OMNIA last year and extends Samsung's market leadership of all-in-one full-touch phones. Samsung OMNIAHD has a stunning design with a sleek finish and delivers the ultimate in digital entertainment thanks to its HD capability and 3.7" AMOLED screen. The Active Matrix Organic Light Emitting Diode (AMOLED) touch screen offers unrivalled sharpness of tone, vivid colours and greater clarity in direct sunlight as well as less power consumption.

"Samsung OMNIAHD is an incredibly exciting product for us as it is a mobile perfectly suited to the needs of today's consumers who want exciting multimedia experiences on the move," said JK Shin, Executive Vice President and head of Mobile Communication division in Samsung Electronics. "OMNIAHD demonstrates our vision for the Samsung mobile business, which is to provide premium phones for users who desire functionality, style, usability and entertainment in one innovative device. With Samsung Mobile, I believe that our users can enjoy being at the forefront of work and play, staying connected anytime, anywhere."

Brilliant HD

The HD video recording feature enables you to capture precious moments in HD (720p) quality, enjoy HD content on HD TV via DLNA technology and share real-time live video as users shoot it via qik.com. The 16: 9 screen of QHD display with 16M colour and dual stereo speaker reveal a whole new world of mobile multimedia experiences on the move, enabling users to enjoy SD (Standard Definition) /HD (High Definition) videos in cinema-scale quality with caption.

Brilliant Convergence

Allied to the industry-leading 8MP camera which allows you take digital camera-quality photographs on your phone, the Samsung OMNIAHD ensures you capture the best possible photographs of your friends and family.

Users can enjoy super-fast internet access of HSUPA 5.76Mbps and HSDPA 7.2Mbps that enables you to download or upload a 4MB MP3 song in less than 10 seconds and a 40MB movie in 1 minute(※). 3.7" Auto-Rotating Display on the large screen means that you can enjoy PC-like web-surfing on your phone. [※ Based on theoretical values]

GPS with integrated compass makes OMNIAHD suitable for both pedestrians and drivers, and the navigation touch control and voice guidance via dual stereo speaker provide drivers with easy and safe navigation.

The generous internal memory (available in 8GB and 16GB capacity options), with the addition of a 32GB microSD card, allows you to store up to 48GB, which translates to 35 DVD-quality movies or 18,000 8MP photographs.

Brilliant Interaction

With its easy to use and intuitive 3D interface, OMNIAHD offers effortless and convenient viewing, allowing users to move around and multi-task seamlessly. Motion-enabled features including 3D games make it intuitive and exciting to enjoy the best ever mobile multimedia experiences. Moreover, Samsung Mobile Widget delivers up-to-date information of your choice with just one touch, creating a personalized interface with which to access the infinite wealth of web content.