Samsung Nexus S Gets Second Shot At FCC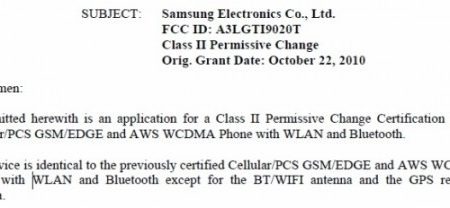 Samsung's Nexus S has gone through a second batch of FCC testing, this time with new Bluetooth/WiFi and GPS receiver antennas getting the main attention. According to Samsung's submission, the GT-i9020T in this second round "is identical to the previously certified cellular/PCS GSM/EDGE and AWS WCDMA phone with WLAN and Bluetooth" barring the new antennas.
There's also the usual confidentiality agreement covering test photos, product shots and internal images that the FCC takes as a matter of course. Samsung has requested the maximum 180 days for short-term confidentiality, which would take us up to the end of February 2011; it's possible that suggests a Mobile World Congress 2011 debut that month.
However, given the absence of a dual-core CPU update, as some suggested was incoming, the pressure for Samsung would seem to be on getting the Nexus S on the market sooner rather than later. It's possible that Google's Android expert, Andy Rubin, could officially announce the phone on December 6, the day some have predicted he will also reveal Gingerbread 2.3.
[via Android Community]