Samsung Mythic and Flight hit AT&T today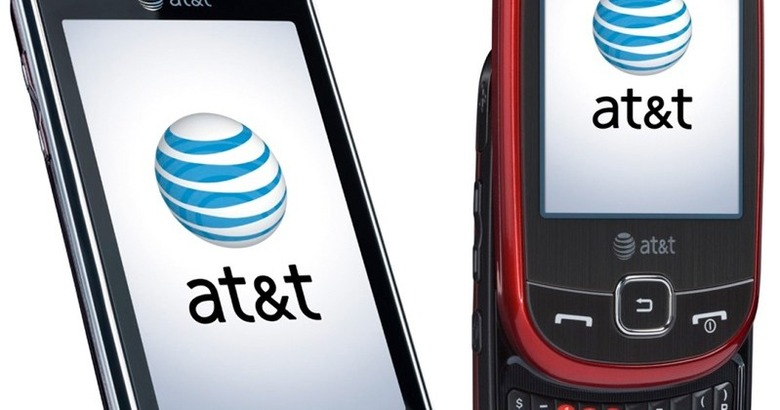 Samsung's latest AT&T cellphones, the Samsung Mythic and Samsung Flight announced last month, will both go on sale today.  Each handset has a touchscreen and the Flight throws in a slide-out QWERTY keyboard; neither are going to cause as much excitement as a proper smartphone, though, and the Mythic's support for Samsung's TouchWiz UI will seem like little consolation when your friends are taunting you with Android.
The Mythic also has a 3.2-megapixel camera, stereo Bluetooth and support for AT&T Mobile TV; the TV service will see a price drop to $9.99 per month (effective for existing subscribers, too) from November 8th.  It's available today priced at $199.99 after a $50 mail-in rebate and assuming a new, two-year agreement.
Meanwhile, the Flight has a smaller display and a lower-res 2-megapixel camera, together with stereo Bluetooth and AT&T Video Share.  Like the Mythic it supports AT&T Navigator (fees apply).  It's available today too, priced at $99.99 after a $50 mail-in rebate and, again, a two-year agreement.
Press Release:
SAMSUNG MOBILE ANNOUNCES AVAILABILITY OF THE SAMSUNG MYTHIC™ AND SAMSUNG FLIGHT™ November 5, 2009

New touchscreen phones offer the latest in entertainment and social networking

Dallas, November 5, 2009- Samsung Telecommunications America (Samsung Mobile)1 , the No. 1 mobile phone provider in the U.S.2, today announced the availability of the Samsung Mythic™, a full touch screen device with AT&T Mobile TVSM capability, and the Samsung Flight™, a touch screen phone that slides open vertically to reveal a full keyboard.

Samsung Mythic

The Mythic's 3.3" full touch screen features Samsung's innovative TouchWiz™ user interface, which allows users to simply drag and drop widgets for their favorite and most commonly used features and functions on the phone's home screen. With one-touch access to features including AT&T Mobile TV and social networking sites such as Facebook and MySpace, the Mythic is a portable entertainment powerhouse.

The Samsung Mythic is the newest AT&T Mobile TV-capable device to hit stores. AT&T Mobile TV subscribers enjoy around-the-clock access to full-length simulcast and time-shifted programming from FLO TV, including content from leading entertainment brands such as CBS Mobile, CNBC, CNN Mobile, COMEDY CENTRAL, ESPN Mobile TV, FOX Mobile, FOX News, MSNBC, MTV, NBC 2Go, Nickelodeon and the movie channel Crackle.

AT&T Mobile TV is now available for $9.99 per month – a new, lower price point effective Nov. 8 for new and existing subscribers. Existing subscribers will see an automatic adjustment to the subscription price on their next statement. New AT&T Mobile TV subscribers receive the first seven days of their subscription for free.5 For more information, visit www.att.com/mobiletv.

Additional key features and specifications of the Mythic include:

· One-finger Touch and Finger Zoom

· Full HTML Web browser

· Virtual full QWERTY keyboard

· 3.2 megapixel camera

· Advanced Messaging capabilities

o AT&T Mobile E-mail

o SMS and MMS

o Instant Messenger

· AT&T Navigator (requires a separate subscription)

· AT&T Mobile Music with Napster Mobile® and eMusicTM Mobile

· Stereo Bluetooth™ technology

· Dimensions: 4.49" x 2.06" x .5"

· Weight: 3.8 oz

Samsung Flight

The next generation messaging device from Samsung, the Flight, available in red and silver color options, has a vertical sliding form factor that opens to reveal a full QWERTY keyboard underneath. The Flight's unique touch screen user interface provides one-touch access to functions like shortcuts, favorites and messaging, including SMS and MMS, Instant Messaging and Mobile E-mail.

Additional key features of the Flight include:

· Social Networking with AT&T Social Net

· 2.0 megapixel camera

· Full HTML Web browser

· AT&T Navigator compatible

· AT&T Mobile Music with Napster Mobile® and eMusicTM Mobile

· AT&T Video Share

· Stereo Bluetooth™ technology

· Dimensions: 4.17" x 2.2" x 0.5"

· Weight: 4.8 oz

Pricing and Availability

The Samsung Mythic is available for $199.99 after mail-in rebate. (Pay $249.99 and receive $50 AT&T Promotion Card with a two year service agreement.) The Samsung Flight is available for $99.99 after mail-in rebate. (Pay $149.99 and receive a $50 AT&T Promotion Card with a two-year service agreement.) Both devices will be available Nov. 8 through select AT&T retail locations or at www.wireless.att.com.

1. Samsung Mobile is proud to provide ENERGY STAR-qualified power adapters with its mobile phones and accessories. ENERGY STAR qualified products use less energy, save money, and help protect the environment. Products that have earned the ENERGY STAR meet strict energy-efficiency guidelines set by the US Environmental Protection Agency and the US Department of Energy.

2. Based upon reported shipment data, according to Strategy Analytics Q2 2009 U.S. Market Share Handset Shipments Report.

3. AT&T imposes: a Regulatory Cost Recovery Charge of up to $1.25 to help defray costs incurred in complying with obligations and charges imposed by State and Federal telecom regulations; State and Federal Universal Service charges; and surcharges for government assessments on AT&T. These fees are not taxes or government-required charges.

4. Limited-time offer. Other conditions & restrictions apply. See contract & rate plan brochure for details. Subscriber must live & have a mailing addr. within AT&T's owned wireless network coverage area. Up to $36 activ. fee applies. Equipment price & avail may vary by mrk & may not be available from independent retailers. Early Termination Fee: None if cancelled in the first 30 days, but up to $35 restocking fee may apply to equipment returns; thereafter up to $175. Some agents impose add'l fees. Unlimited voice services: Unltd voice svcs are provided primarily for live dialog between two individuals. No additional discounts are available with unlimited plan. Offnet Usage: If your mins of use (including unltd svcs) on other carrier's networks ("offnet usage") during any two consecutive months or your data use during any month exceeds your offnet usage allowance, AT&T may at its option terminate your svc, deny your contd use of other carriers' coverage, or change your plan to one imposing usage charges for offnet usage. Your offnet usage allowance is equal to the lesser of 750 mins or 40% of the Anytime mins incl'd with your plan (data offnet usage allowance is the lesser of 24 MB or 20% of the KB incl'd with your plan). Sales tax calculated based on price of unactivated equipment

5. AT&T Promotion Card: Allow 60 days for fulfillment. Card may be used only in the U.S. is valid for 120 days after issuance date but is not redeemable for cash & cannot be used for cash withdrawal at ATMs or automated gasoline pumps. Card request must be postmarked by XXX & you must be a customer for 30 consecutive days to receive card.

6. AT&T Mobile TV 7 Day Free Offer. After the first 7 days, you will be charged the applicable AT&T Mobile TV monthly service charge unless you cancel AT&T Mobile TV from the "Subscription Manager" on the Mobile TV guide on the phone or by calling AT&T Customer Service. Offer valid for phone call subscriptions on AT&T Mobile TV Basic plan only. Offer not available when subscribing from the phone. Offer expires 8/5/2010.

7. Mobile TV is not available in all areas. Requires compatible device. Content offers as of 10/1/09. Programs subject to change. All sports programming subject to blackout restrictions. Other conditions and restrictions apply.

8. Video Share not available in all areas. Video Share requires the sender and receiver to have compatible feature & be in a 3G coverage area to share video. Both sender and receiver will be charged for any call minutes. Only the sender will incur Video Share usage charges. AT&T is not responsiblefor the content of any video. 3G not available in all areas.