Samsung MV900F packs WiFi, gesture control and AMOLED touch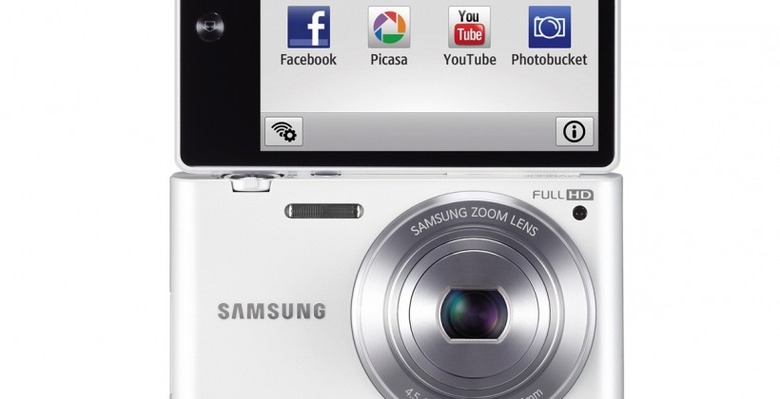 Samsung has outed its latest WiFi-enabled digital camera, the point-and-shoot MV900F, complete with social networking integration and a flip-out touchscreen. Packing a 16.3-megapixel CMOS and 5x optical zoom, the Samsung MV900F records Full HD 1080p video and then can squirt it over a WiFi connection directly to Facebook or YouTube.
There's also the facility to remotely control the camera from a computer, again using WiFi as the link. If you don't have a PC handy, though, Samsung has added "Gesture Shot" which recognizes hand gestures to control zooming and shutter-release from across the room; that's extra handy given the 3.3-inch AMOLED touchscreen can be flipped all the way up so as to be seen from the front of the camera. Circular motions control the zoom, while moving your hand up and down fires of a shot.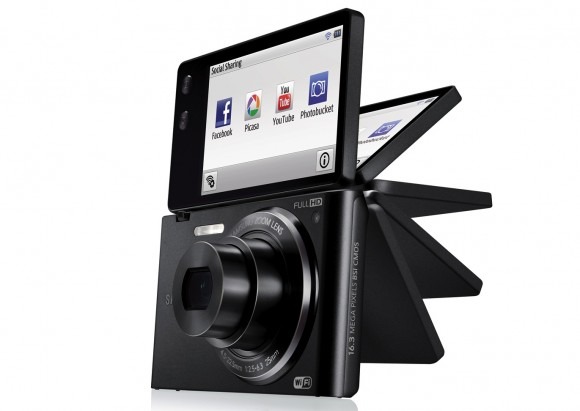 Other features include onboard retouching tools, a Low Light Shot mode which – HDR-style – pairs multiple frames taken at different settings to piece together the best overall image, and SMART LINK for easily connecting the MV900F to a TV. The f2.5, 25mm lens is paired with a backside-illuminated sensor.
Facebook, YouTube, Photobucket and Picasa are all supported out of the box, and there's a Motion Picture feature which creates GIF-like animated stills set on a solid background. The Samsung MV900F will be priced at $349 when it drops in August.