Samsung Mondi WiMAX MID previewed: keyboard poor & WM6.1 sluggish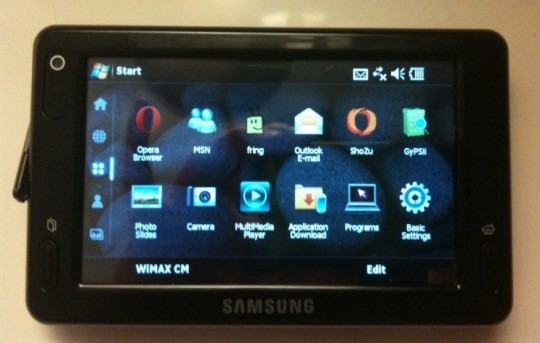 We may receive a commission on purchases made from links.
Samsung's Mondi may be tricky to find for retail right now, but an early unit has dropped over at PC World for them to try out.  Taking advantage of Clearwire's CLEAR WiMAX network, the Mondi MID has a slide-out keyboard, 4.3-inch 800 x 480 touchscreen and runs Windows Mobile 6.1; unfortunately, reviewer Ginny Mies found that while the screen is "gorgeous" the keyboard is too flush to be comfortable and the OS does its usual job of making things sluggish.
Worse, having spoken to Samsung, it seems that the chance of an upgrade to Windows Mobile 6.5 when the new platform launches later this year is unlikely.  Samsung's TouchWiz interface has been freshly worked-over to suit the Mondi's orientation and abilities, but it still lags in places; flipping the 3D cube-style UI sometimes takes a few flicks, and while the homescreen supports widgets there are a very limited number to choose from.
Still, when it grabbed a WiMAX signal Opera Mobile loaded pages quickly, complete with Flash Lite support for animations and streaming video.  Better, says Mies, than the iPhone 3GS, which is high praise indeed.  Coverage is likely to be the deciding factor with the Samsung Mondi; it'll apparently be $300 subsidized or $400 unsubsidized, though if you're not catered for with WiMAX then you can probably find a better MID for your money.