Samsung Mobile Unpacked invites unleashed for IFA 2012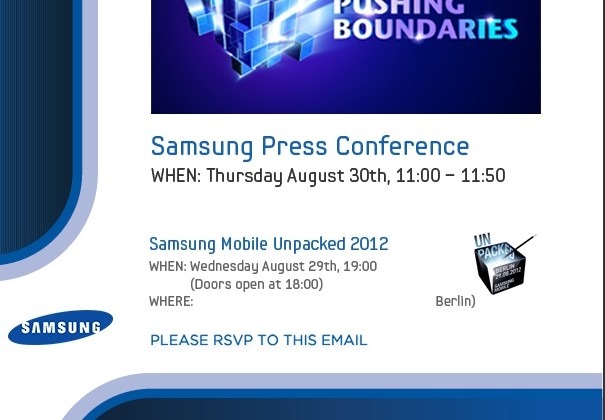 It's time to bring on the next generation of Samsung devices with "Pushing Boundaries" in the pipeline as the manufacturer of smartphones, tablets, televisions, cameras, and everything in between heads to IFA 2012. This event will take place on Thursday, August 30th at 11AM local time in Berlin, with "Samsung's full product lineup" ready for display immediately following. We'll be there with bells on, ladies and gentlemen, as we expect nothing less than mobile and much more giant devices to be revealed as it is at each Germany-based Unpacked event of the past.
This event will likely bring on a new Samsung Galaxy Note device as well as a final worldwide release of the Samsung Galaxy Note tablet – that being 10.1 inches of slate with an S-Pen to go along with it. Last year was home to not only the Samsung Galaxy Note's first appearance, but to the events that lead up to the newest in new from Samsung – the Galaxy S III. Berlin is quite often the place where some of the most fantastic Samsung devices are revealed, so we'll certainly be bringing it all to you live in effect as it all comes down the chute.
For those of you looking to check out any early reveals, head to our Samsung portal as well as SamsungIFA.com if you do so expect them to reveal anything early themselves. Samsung is preparing to continue their dominance of the Android-based environment across the earth, but they may very well be bringing on more of their own software and hardware solutions to go along with it. There's also ultrabooks, touchscreen devices, and even camera solutions to look forward to as well.
Check out the timeline below to see what Samsung's been up to lately – aside from court battles, of course, and check back with us on the 30th of this month for more fun than you can shake a phablet at! We'll be presenting most if not all of our reveals and hands-on posts via our main news feed, right down at SlashGear.com – don't miss it!