Samsung MediaLive HDTV Media Center Extender announced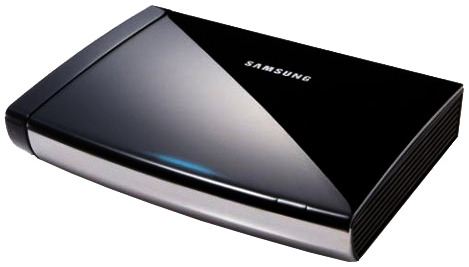 Yet another home media option from Samsung, this time aiming to connect your shiny new LCD or plasma TV up to your media center PC.  The Samsung MediaLive is an extender that brings the Vista Media Center to your HDTV screen; that means you can watch recorded or downloaded media, pause live TV and also watch live high-definition programming via a CableCARD tuner.
The catch is that you have to have one of Samsung's HDTVs in order for it to work.  In fact, you have to have a pretty recent (i.e. one made in 2008 that has CEC automation support) TV, but once you've got over that hurdle you can use the MediaLive's ethernet port or built-in WiFi draft-N to access Vista Media Center, watch movies from Vongo and MovieLink and stream content from XM Radio.
Once connected, the MediaLive can be mounted behind the HDTV, with remote commands being shuttled via the HDMI-CEC connection.  A single PC can stream content – up to 1080p and in AC3, H.264, JPEG, MPEG2, MPEG4, WMA and WMV formats - to up to five MediaLive-equipped TVs, depending on resolution and bandwidth.
The Samsung MediaLive Extender will go on sale in August 2008, priced at $200.
Press Release
Samsung's MediaLive: the Ultimate HDTV Accessory, Bringing Digital Content from the PC to the Big-Screen

Combines Microsoft's Extender for Windows Media Center Technology with Samsung High Design and Cutting-Edge Functionality for a New Era of Home Entertainment

RIDGEFIELD PARK, N.J. –(Business Wire)– Jul. 23, 2008 Samsung Electronics America Inc., the leader in the U.S. digital television market, lets consumers view PC-content on a Samsung HDTV with the retail launch of the company's MediaLive adaptor. Samsung's MediaLive delivers digital content (including HD content) in real-time from Windows Media Center on a PC running Windows Vista Home Premium or Windows Vista Ultimate operating systems to the big screen of a Samsung HDTV via a wireless or wired home network. From photos, music, feature films, home movies, and live and recorded TV programs, Samsung's MediaLive is the ideal plug-and-play complement to most 2008-model Samsung HDTVs.

"The PC is quickly becoming the hub for entertainment in the home and Samsung's MediaLive gives consumers the freedom to enjoy and manage movies, photos, and music on the bigger screen of an HDTV," said John Revie, Vice President of Visual Display Marketing at Samsung Electronics America. "Samsung's MediaLive opens up a constantly expanding world of content for consumers, adding yet another connectivity option to the latest Samsung HDTVs."

Easily connected to an existing wireless or wired Internet connection, Samsung's MediaLive allows PCs running Windows Vista or Windows Vista Home Premium to stream a personal movie, photo, music, and video collection to any 2008-model Samsung HDTV in the home with an HDMI-CEC connection. With the ability to display content at up to Full HD resolution and support for a range of video, audio, and image codecs such as AC3, H.264, JPEG, MPEG2, MPEG4, WMA, and WMV, consumers will be able to enjoy an impressive variety of video and audio files using Samsung's MediaLive. Instead of crowding around a 15-inch PC monitor to share their latest music or movies, users can transfer the same PC content in real-time and share it on a 50-inch HDTV with a group of friends. One PC can stream content to up-to five Samsung MediaLive boxes connected to a TV through a home network – providing total access to entertainment from most 2008-model Samsung HDTV's in the home.

Beyond streaming personal entertainment, Samsung's MediaLive gives consumers access to a wide range of entertainment options including online services such as Vongo, MovieLink, Showtime TV, XM Radio, and FOX Sports, as well as the ability to browse through top news stories from Reuters and NPR. Additionally, in the U.S., Windows Media Center features the Internet TV beta program, which offers access to viral videos, news stories, movie trailers, sports clips, cast interviews, movie concerts and more. For access to live and recorded TV through the Samsung MediaLive, a simple TV tuner can be connected to the PC, turning it into a powerful DVR with the ability to watch and record favorite television shows and movies. In conjunction with FOX Sports, consumers are able to access SportsLounge to quickly view up-to-date sports scores, statistics and schedules – a perfect tool for any fantasy sports fan.

"Microsoft is pleased to be working with an industry leader such as Samsung, which shares our commitment to expanding TV entertainment options through Windows Media Center," said Ron Pessner, General Manager of the Connected TV Division at Microsoft Corp. "We're seeing the industry recognize the value of delivering these types of integrated solutions that allow consumers to extend pictures, music and more from their Windows Vista Home Premium- or Ultimate-based PC to the TV."

Employing the simple-to-navigate user interface and integrated electronic program guide of Windows Media Center, content browsing and playback is easily controlled using the arrow and enter buttons available on either the included MediaLive Simple Remote, or the Samsung HDTV's remote control.

Using the included mounting bracket, the compact device can be easily mounted to the rear of select Samsung flat-panel TVs for a clutter-free home theater setup. Operational commands are sent to the MediaLive via the HDMI-CEC port for a high quality, single-cable connection to the HDTV. The device connects to a PC via a RJ45 connected LAN cable, or wirelessly through a built-in 802.11 a/b/g/n receiver.

The Samsung MediaLive will be available in August 2008. -0-

Specifications

—————————-

MediaLive

———————————————————————-

Online Content — Windows Media Center online media

content providers

———————————————————————-

Audio — WMA, MP3, AC3

———————————————————————-

Video — WMV, MPEG2, MPEG4, H.264

– HDMI-CEC output

– Replay

– Down & Play of recorded TV program In

PC

– AV Streaming with PC (Server)

– AV Streaming with PC (Client) – WMV,

MPEG2 file Streaming

———————————————————————-

Photo — JPEG

– Zoom in/out, Rotation

———————————————————————-

Input and Output — DC Power

– USB 2.0 Slave

– USB 2.0 Host

– HDMI-CEC

– Ethernet (RJ45 LAN cable)

———————————————————————-

Works With — 2008-model Samsung HDTVs 450 series

and higher, LCD, Plasma and DLP

———————————————————————-

Dimension (W X H X D, mm) — 270 x 48 x 155

———————————————————————-

Weight — 1.8 kg

———————————————————————-

Estimated Selling Price $200

———————————————————————-

Availability August 2008

———————————————————————-

*Subject to change without notice.

About Samsung Electronics America, Inc.

Headquartered in Ridgefield Park, NJ, Samsung Electronics America, Inc. (SEA), a wholly owned subsidiary of Samsung Electronics Co., Ltd., markets a broad range of award-winning, digital consumer electronics and home appliance products, including HDTVs, home theater systems, MP3 players, digital imaging products, refrigerators and washing machines. A recognized innovation leader in consumer electronics design and technology, Samsung is the HDTV market leader in the U.S. Please visit http://www.samsung.com for more information.