Samsung LapFit D190SU with DisplayLink Review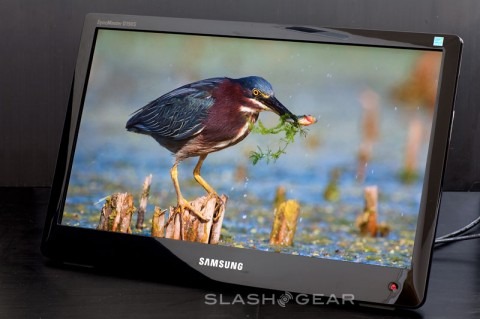 A few weeks ago, Samsung Korea launched a series of low profile external LCD monitors intended to serve as notebook or netbook companion displays.  Essentially, it's a same LCD display as in Samsung's current notebooks, but with adjustable height: when it stands, it's as tall as your laptop to ensure everything lines up with no offset.  However there's more technology gone into the LapFit than the design; it also comes equipped with Samsung's UbiSync technology aka the DisplayLink USB graphic chip embedded into the display, enabling plug-n-play monitor expansion via a simple USB connection. Last week SlashGear was offered an exclusive preview of the new breed of Samsung SyncMaster, a 19-inch LapFit dubbed the D190SU, and we took the bait.
Our review unit was a demo product from the CES show, and little birdie told us Samsung didn't pick the name "LapFit" until it gets launched later in Korea. Ours was also branded the D190S, not the D190SU, but apparently the SU will designate the DisplayLink version while the basic S gets VGA only.  Basically, it has been to places, used but not too badly abused; by the time it reached us it worked, but there's quality concerns over the squeaky and squishy bezel.
Setting up the new SyncMaster is probably the easiest monitor hook-up I've ever done. With no base to assemble, it's practically hassle free as the unit stands entirely on two tiny rubber feet and a flip-up wheel leg and weighs less than 9lb. As the unit is positioned for notebook height, there aren't many offsets to the screen except tilting it backward. The leg is tensioned to hold the display with just enough pressure to allow smooth tilting of angles between 10 and 30 degrees. It held the unit steady and allowed effortless adjustment with your fingertip.
No cheap plastics here. Like most SyncMasters, the finish is piano black all around. The frame has curved edges at all corners with a pleasing clear coating, while the surface is smooth and beautifully shines, a good match-up with the glossy display. It's visually attractive, stylish and looks quite a lot like an oversized contemporary photo frame.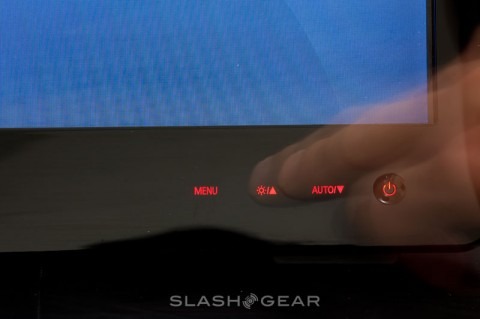 The control buttons and power button are touch-sensitive, and completely buried beneath the glossy bezel.  One soft touch of it calls up the hidden OSD offering image size, MagicBright four preset picture modes from NotePC, Internet, Movie and Dynamic Contrast adjustment. No individual RGB settings, gamma adjustment or contrast controls are included with this basic SyncMaster, all you can tweak is brightness. The touch sensitive buttons respond well and we had no problems with false detections or with the need to apply extra pressure to make them work.
The rear panel supplies ventilation, power input and video connectivity from VGA to the built-in DisplayLink USB graphic chip. If you've been living in a cave for the last few years, here's the basics about DisplayLink USB Graphics technology: it expands your visual workspace, by up to six monitors, via a single plug-n-plug USB connection, and is probably one of the fastest growing and most widely adopted technologies found on today's notebook docking stations, projectors, video adapters or embedded directly into monitors like the LapFit. The company is now apparently gunning at the increasingly popular pico projector segment.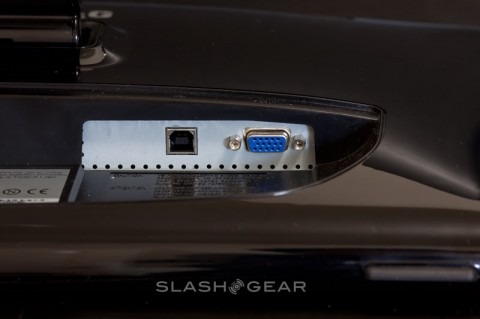 Currently, the hardware supports up to 1600 x 1200 resolution, and according to Theo Goguely, the director of product marketing from DisplayLink, their next-gen chip (tentatively scheduled for launch in the second half of this year) will offer resolutions beyond 1920 x 1200, "2K x 1K" or 2048 x 1080. Additionally, the USB GPU geek-squad has been working closely with Intel, and newer hardware with Intel's series four graphics chip will get optimized drivers supporting OpenGL, DirectX 9 and 10 3D graphics, gaming and HD video.
On the subject of drivers, a variety of OS support has been released for Windows XP (32-bit), Vista (32/64-bit, Aero 3D enabled) and Apple OS X. Also, there's a preview driver for early adopters with the upcoming Windows 7 OS.
When asked about Linux, the USB 3.0 standard and HDMI connectivity, Theo informed us there's no timeline for Linux support but it's a possibility. Though they have manufactured an HDMI version for one of their clients, it's not likely to be featured in the company's product due to incompatibility with the HDCP copy-protection standard. However, the digital content protection will be supported when the next generation USB 3.0 DisplayLink system is made public.
On the test bench, getting the USB video to work was a breeze. The SyncMaster worked right out the box with a MacBook Pro using the newest OSX 1.1.2 beta driver, while two of the other PC systems ran XP 32-bit and Vista 64-bit and similarly had no issues. Installation was simple with an intuitive display manager appearing as a task bar icon in Windows systems or a normal Mac display properties window with full control over the panel. Since it's a simulated GPU, it would not appear in third-party graphics control panels like ATI or NVIDIA's advanced controllers.
As for the panel, it's a typical affordable and fast response rated TN+Film matrix LCD, unfortunately somewhat infamous for its mediocre image quality and disappointing viewing angles. Against all preconceptions, though, the viewing angles proved to be acceptable, with credit due to the anti-glare technology, though as usual, viewing angles from below the screen were poor. Brightness across the display was measured in nine regions; evidently there is luminance inconsistency from the corners and we also saw gradient banding noticeable in test patterns.  Nevertheless, those were typical offsets from a TN + film panel but not enough to throw you off your work.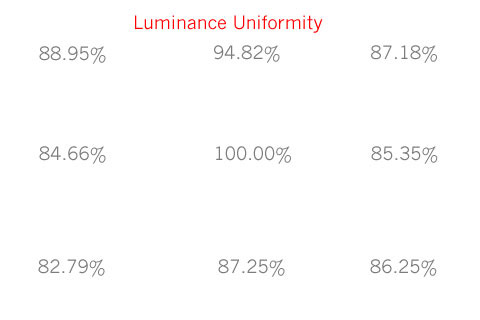 For image quality, NotePC picture mode offered a good balance of white and black luminance, and the most natural color presentation to the naked eyes. Brightness and contrast ratio at the center of the screen were measured at 136.1 nits and 1134:1 respectively; keep in mind that was with brightness at 70 percent, there was room to grow and in fact the SyncMaster exceeded its claim of a native 1000:1 contrast ratio.  We didn't manage to get as far as the claimed dynamic value of 15,000:1, however.
On entertainment, the USB graphics displayed DVD movies with no lag or ghosting, but we can't say the same for immersive gaming. As mentioned, the current DisplayLink chip doesn't support that; it simply lacks the muscle to process 3D simulations or graphic-intense games, though simple titles work fine. As mentioned, new chips and optimized drivers are coming to provide headroom for extra pixels and monitors.
Overall, we have mixed feelings if the proposition is simply that the Samsung LapFit D190SU is a perfect fit for a laptop or ultraportable netbook. Not everybody wants a desk-height external monitor with little room for adjustability, and today's software lets you tweak relative display positioning so getting things precisely lined-up is less of an issue. The clean contours and gorgeous black piano finish, however, means the LapFit could happily serve as a stylish tabletop digital photo frame. Another good use of the LapFit D190SU would be a projector-equipped home theater system with HTPC users looking for an external monitor for system integration without needing to power up the beamer.  It's also an energy efficient display, demanding only 22 Watts of power.
Samsung are yet to confirm US pricing for the SyncMaster LapFit D190SU, but going by UK figures it should come in under $200.  That's expensive for a 19-inch display, even one with straightforward USB connectivity, when a quick online search shows up larger screens non-DisplayLink monitors for less money.  We're also relatively unimpressed with the TN+ panel and its lackluster performance.  The D190SU solves a problem, yes, but the cost and the limitations will keep it very much a niche product.