Samsung Lapfit LD190G and LD220G external USB monitors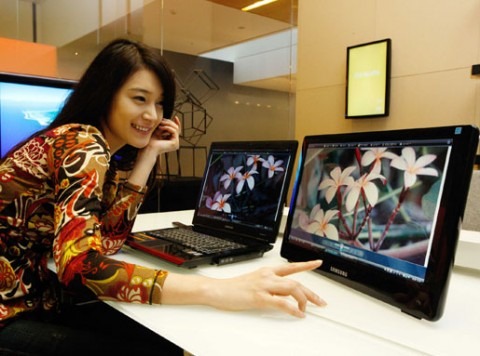 Samsung newest pair of Lapfit monitors are not any different than any other desktop displays, except they are targeting specific notebook users seek out external monitor with matching and much comfortable height offsets.
The pair of low profile widescreen monitors, LD190G (19-inch) and LD220G (22-inch), sit the height of your typical laptop with adjustable tilt angles about 10-30 degrees. Both monitors offer 1360x768 pixel resolution, 4ms response time and a 20k:1 dynamic contrast ratio; nothing ground breaking here, except its 22 watts of low power usage and USB 2.0 graphic connectivity.
The 22-inch Lapfit LD220G will see to a March release in Korea with a retail price of $215, while the 19-inch, LD190G is set for $165. No announcements were made outside of Korea.
[Samsung Korea via akihabaranews]