Samsung just made the Bixby button even more pointless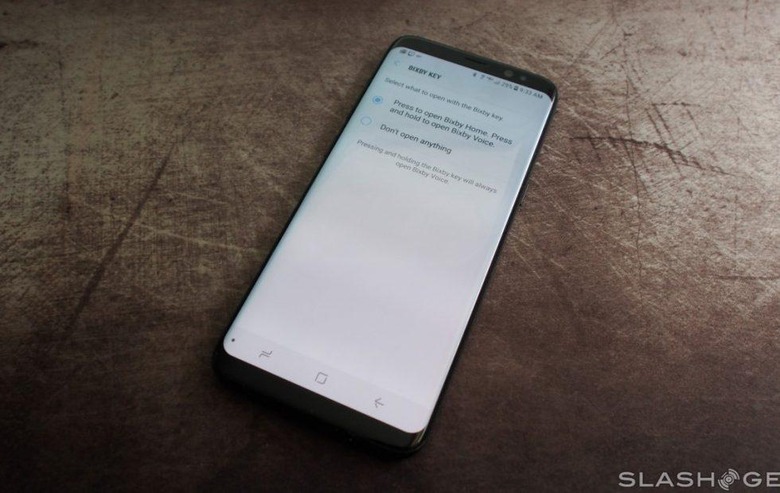 Speaking as a Galaxy S8 owner, I have to say that the phone is great, save for one rather annoying feature: the Bixby button. Not only is its usefulness wasted on me – someone who doesn't have much interest in Bixby – but it's also located in one of the most frustrating places. If you find yourself in the same boat, then take heart, because a new update is letting you fix those problems.
Samsung has delivered an update to the Bixby app that allows you to disable the function of the Bixby button. Assuming the update has been pushed to your phone, you can now select between two different settings for the Bixby key: "Press to open Bixby Home. Press and hold to open Bixby Voice," or "Don't open anything." It appears that this update is rolling out to both Note 8 and Galaxy S8 owners.
It should be noted that the wording for the second option is a little misleading at first blush. Though "don't open anything" suggests that you'll disable the Bixby key's function entirely, a long hold will still open Bixby Voice. Regardless, a lot of Samsung users will be happy to limit the Bixby key's functionality, as its position on the Galaxy S8 makes it easy to press accidentally, launching into Bixby Home when you may have just wanted to turn down the volume on your phone.
READ MORE: The Bixby button is the bane of my mobile existenceOf course, it would be even more exciting if Samsung let us remap the Bixby key to something else, but it doesn't look like Samsung is ready to make that concession yet. Still, this is certainly a step in the right direction, even if it is annoying that it means you now have a button that serves no purpose.
In any case, to disable the Bixby button, you need to make sure that Bixby and Bixby Home are up to date, which you can confirm or initiate by going into the Galaxy Apps Store and navigating to "My Apps." Once they've been updated, open Bixby by either pressing the Bixby button or swiping right on your home screen and then head into Settings. Scroll down and you'll see the option to disable the Bixby button.
This seems to only be rolling out to certain users for the time being, so if you don't see it yet, sit tight. Hopefully Samsung will soon let us remap the button entirely, so stay tuned for more.