Samsung is giving SUHD TV buyers the tech to make a smart home hub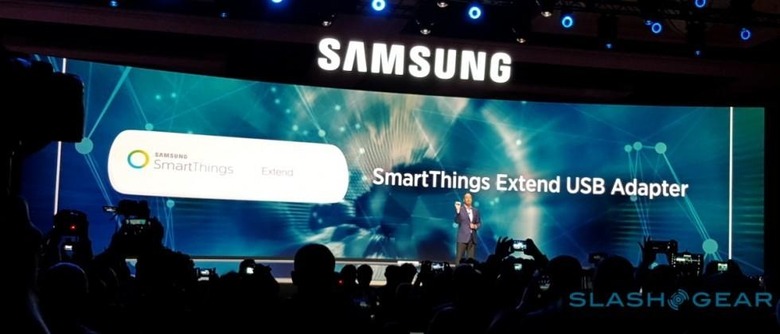 SmartThings has announced a dongle that turns Samsung TVs into the hub of a smart home. The SmartThings Extend USB adapter will allow Samsung TVs to hook into the SmartThings ecosystem, controlling over 200 products ranging from lights, through outlets, and more esoteric kit like baby monitors and more.
While the SUHD TVs on their own will be able to tap into select SmartThings hardware, the Extender stick will add ZigBee and Z-Wave wireless radios.
Samsung acquired SmartThings back in 2014, using the crowdfunded system to leapfrog its way into the smart home segment. The company – which operates within Samsung as a separate division – released its second-generation home hub in 2015, with onboard battery backup and broader compatibility with third-party devices.

Whereas the SmartThings starter kit will set you back $249 – albeit with a selection of sensors in the box too – the SmartThings Extend USB adapter will be offered free.
Of course, you have to be in the market for a new TV in order to qualify, with only those who buy a 2016 Samsung SUHD television getting the free dongle.
What's unclear at this stage is whether those existing Samsung TV owners with a UHD set will get the same SmartThings functionality via a software update.