Samsung Instinct HD hitting Sprint September 27th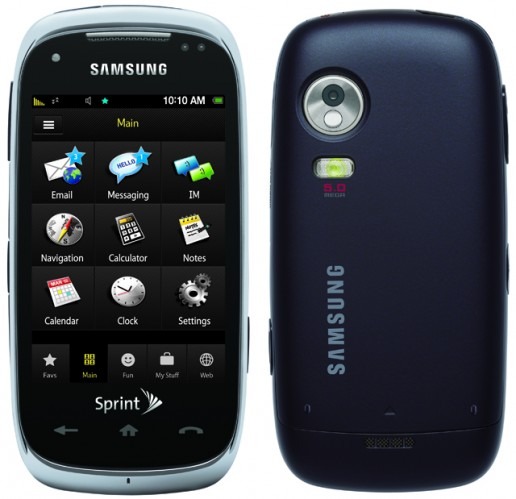 Samsung and Sprint have finally come clean and officially announced the Instinct HD, which will hit stores in the US from September 27th.  The Instinct HD brings with it a 3.2-inch 320 x 480 touchscreen, EVDO Rev.A, WiFi b/g, GPS, a 5-megapixel camera recording 720p (1280 x 720 30fps) video and, perhaps most interesting, a TV-out connection supporting HD resolutions with an optional HDMI adapter.
With that in place, owners can use the Instinct HD to watch content from their phone, the microSD card inside, or from the internet on their big-screen TV.  Samsung have also preloaded Opera Mobile 9.7, Twitter and Facebook access and Visual Voicemail, to which Sprint add Sprint TV, Sprint Navigation (with 2D and 3D mapping) and various sports-related apps.
There's also Bluetooth 2.0 with support for the A2DP stereo profile, both portrait and landscape on-screen QWERTY keyboards with haptic feedback, SMS/MMS/Exchange messaging and a headphones jack.  The Samsung Instinct HD will be available on Sprint from September 27th, priced at $249.99 with a new two-year agreement (and following a $100 mail-in rebate).

Press Release:
AWARD-WINNING INSTINCT LINEUP EXPANDS

WITH SAMSUNG INSTINCT HD FROM SPRINT

ADDING HIGH DEFINITION CAMERA AND CAMCORDER,

HDTV CAPABILITIES AND OPERA MOBILE WEB BROWSER

Available from Best Buy on Sept. 27 and all Sprint retail channels on Oct. 11, Samsung Instinct HD adds innovative entertainment tools on America's most dependable 3G network

OVERLAND PARK, Kan. and DALLAS – Sept. 24, 2009 – Sprint (NYSE: S) and Samsung Telecommunications America (Samsung Mobile), the #1 mobile phone provider in the United States1, today announced the upcoming availability of Samsung Instinct® HD, the latest follow-up to the award-winning Samsung Instinct, which made its debut last summer exclusively from Sprint.

Samsung Instinct HD boasts an attractive and intuitive user interface as well as the high-speed connectivity of America's most dependable 3G network3 (EVDO Rev. A).With Samsung and Sprint's first high-definition 5-megapixel camera and camcorder and TV-out HD connection, it allows photo and video playback on an HD capable auxiliary device but it does not provide HD playback directly on the handset.2

Samsung Instinct HD further improves on the original with an enhanced Web browsing experience, including a full Opera Mobile 9.7 browser, WiFi capabilities, an Ambient Light Sensor and Accelerometer. It also features a Proximity Sensor with haptic feedback that gives users a gentle vibration as they experience the virtual QWERTY keyboard.

Beginning Sept. 27, customers will be able to purchase Samsung Instinct HD at Best Buy Mobile, Sprint's exclusive national retail partner. It will then be available Oct. 11 in all Sprint company-owned retail channels, including Web (www.sprint.com) and telesales (1-800-SPRINT1) for $249.99 with a new two-year service agreement after a $100 mail-in rebate (taxes and service charges excluded).

"When Instinct was announced last summer it received tremendous praise from our customers and showcased the power of application integration and a world class user-interface," said Kevin Packingham, senior vice president of product development for Sprint. "Instinct HD adds to that legacy with the addition of a host of video services that are unmatched in the industry."

"Samsung Instinct HD ups the ante with the full Opera Mobile 9.7 Web browser, WiFi connectivity and a 5-megapixel camera and camcorder, which allows the user to take high resolution pictures and HD-quality video," said Omar Khan, senior vice president of strategy and product management for Samsung Mobile. "What sets Instinct HD apart even more is the ability to view those pictures and video on your HDTV or other HD-compatible monitor through the device's HDTV out connection. These improvements raise the Instinct handset portfolio to a whole new level."

Samsung Instinct HD offers all of the must-have features of its predecessors including:

• Live Search for Sprint, powered by Microsoft, which provides easy access to directory information on-the-go, GPS-enabled directions, interactive maps and one-touch click to call access.

• Visual Voicemail, allowing users to listen to messages in their order of preference and manage them with a simple tap of the screen.

• Sprint TV®, with an extensive selection of channels and on-demand programming.

• Advanced stereo Bluetooth® 2.0.

• Support for personal and corporate email (sync with Microsoft® Outlook®).

• SMS voice and text messaging with threaded text.

• Easy access to social networking sites, including Facebook®, Flickr® and Twitter.

"We are excited about adding Instinct HD to our ever-growing assortment of smartphones at Best Buy Mobile," said Jude Buckley, chief merchant and marketing officer for Best Buy Mobile. "Last year's launch of the original Instinct was a big win for Sprint and Best Buy and, most important, for the customers we serve together. We expect the same from Instinct HD. Bringing this latest smartphone to our table will offer customers even greater choice and options as they look to upgrade to a smarter phone."

Customers who purchase the new Instinct HD can also enjoy Sprint's newly announced Any Mobile, Anytime(SM), which breaks the restrictive calling circle paradigm by providing unlimited calling to any wireless phone regardless of carrier at no additional charge with Everything Data plans from Sprint. Instinct HD requires activation on select pricing plans offering unlimited data, such as an Everything Data plan starting at just $69.99 per month or the Simply EverythingSM plan. Simply Everything provides unlimited calling, unlimited text and unlimited data including e-mail, social networking, Web browsing, GPS navigation, Sprint TV, streaming music, NFL Mobile Live and NASCAR Sprint Cup Mobile for only $99.99 per month. That's a savings of $1,200 over two years vs. a comparable AT&T iPhone® plan4 (all price plans exclude Sprint surcharges and taxes).

The Sprint Mobile Broadband Network (inclusive of data roaming) reaches more than 269 million people, 18,652 cities and 1,838 airports. The Sprint Networks (inclusive of data roaming) have more than twice the coverage of AT&T's current 3G network and more than 20 times the coverage of T-Mobile's current 3G network, both based on square miles5.

Customers looking to upgrade to Samsung Instinct HD should consider recycling their wireless device. Sprint is the industry leader in the reuse and recycling of wireless devices sold. Sprint has an aggressive industry-first goal of reaching a 90 percent phone collection rate for reuse/recycling compared with annual wireless device sales by 2017. To learn more about wireless recycling visit Sprint's wireless recycling Web site.