Samsung Instinct and HTC Touch Diamond reviewed!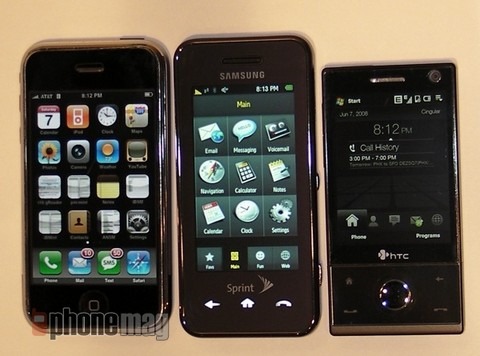 Over at our mobile-obsessed sister site PHONE Magazine its been a touchscreen review frenzy, with two of the year's most eagerly anticipated cellphones turning up in the same weekend.  First off, Samsung's Instinct for Sprint landed on the step and was promptly unboxed and reviewed.  Then the HTC Touch Diamond arrived, just in time for an unboxing and some first impressions.  Both handsets have slick touchscreens, GPS and high-speed data connections; both may not say it out loud, but they've got the iPhone in their sights.
The Touch Diamond may have the smallest display – measuring just 2.8-inches compared to the Instinct's 3.1-inches – but with VGA resolution it blows the Samsung (and, it has to be said, the iPhone) out of the water for image quality.  Meanwhile both promise amazing mobile internet access, courtesy of the Instinct's EV-DO Rev.A and the Touch Diamond's HSDPA/HSUPA and WiFi b/g.  Would-be users will be looking closely at the GUI on offer, too, with the Samsung's being in-house and HTC having recently fettled their TouchFLO overlay (that sits on top of Windows Mobile 6.1) with some particularly slick 3D animations.
Of course, tomorrow we'll be at WWDC 2008 for what's expected to be the official announcement of the 3G iPhone.  Apple's current cellphone is still holding up pretty well against rivals, in terms of usability and eye-candy at least, but the specs are looking increasingly tired.  A new model could certainly change all that.  Join us at 10AM San Francisco time on Monday morning for our Live Blog of the Steve Jobs keynote, at http://live.iphonebuzz.com/